JTX Fitness makes one of the industry's best foldable rowing machines: JTX Freedom Air Rower. A powerful machine with 16 resistance levels and 8 workout programs, users will be able to enjoy a full stroke (even taller users), an advanced monitoring system, and an ergonomic design that ensures proper form and comfort when rowing.
JTX Freedom Air Rower Features
16 resistance levels
8 built-in workout programs
2 heart rate options
Performance monitor
Ergonomic design with

Adjustable pedals
Adjustable console
Padded seat

Free delivery
2 year, in-home repair warranty
JTX Freedom Air Rower Review
The JTX Freedom weighs 37 Kg and spans 225 x 58 x 86 cm in length. Built for a gym quality workout, the Freedom Air will increase your strength and fitness levels (more on that soon), and will fold away in the corner when not in use.
Perfect for the at-home fitness enthusiast, assembly is fast and easy. JTX also offers free express courier delivery, with morning delivery available in certain areas.
The best part is that delivery is guaranteed in 1 – 2 days, and you'll be rowing within an hour of unpacking the box.
Reinforced aluminum is used to ensure that the rower is able to accommodate users up to 130kg in weight, or approximately 20 stone. Meant for users of all height, a full stroke is able to be achieved, ensuring proper form and maximizing fitness benefits.
Sitting on the rower for the first time, you'll be able to adjust the:
Console position
Foot pedals
The seat is made for long-term use and is 36 cm high (easy for older users to get on and off of). A wide construction, the seat is 35cm x 25cm and is padded for the utmost in comfort. The handle utilizes an ergonomic bend, so that the bar can be brought flush against the chest for true range of motion when rowing.
There are 6 pedal adjustments to ensure proper foot positions when rowing.
Quiet and smooth, each catch and release will offer maximum fitness benefits to the rower while providing a quiet session.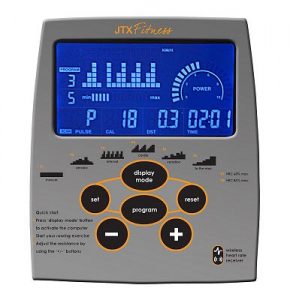 The console is adjustable, ensuring that your neck can remain straight and aligned while also monitoring your fitness activity. Several metrics are monitored, including:
Speed
Distance
Time
Stroke
500m split time
Torque/power
Strokes per minute
Heart rate
The monitor is backlit, so it's easy to view in any lighting conditions. There are also 16 resistance levels controlled through the monitor, and there are 8 pre-programmed workouts to push your rowing to the extreme.
There are also 2 heart rate controlled options for building stamina and burning more calories.
When you're done with your rowing session, the JTX Freedom Air will easily fold away, and can be placed in the corner or against the wall to minimize storage space.
Pros
Sturdy build
Advanced monitoring system
16 resistance levels
Foldaway design
Fast and free delivery
Cons
This model is a little heavy, but most in this price range are due to their solid construction. The price is at the high-end, but this isn't your normal rowing machine that will break in a few weeks. In fact, JTX Fitness offers a 2-year in-home warranty and repair, so you can rest assured that if your rower breaks, a skilled professional will come repair it for free.
The JTX Freedom Air offers a superior rowing experience, a comfortable ergonomic design and a sturdy build that can withstand daily rowing for years.
If you have enjoyed our JTX Freedom air rower review then make sure to check out some more of our other detailed reviews by simply clicking here.
JTX Freedom Air Rower Review
Review Overview
Build Quality - 7.5
Console - 7.2
Comfort - 7.4