The Skandika SF-1140 is the perfect balance between affordability and practicality. This model has everything you need for a great rowing session, but it does lack some of the features that machines twice its price offer.
But this is a good thing.
You'll receive all of the necessary features so that you'll be able to build muscle, enhance your stamina and lose weight minus the high price tag.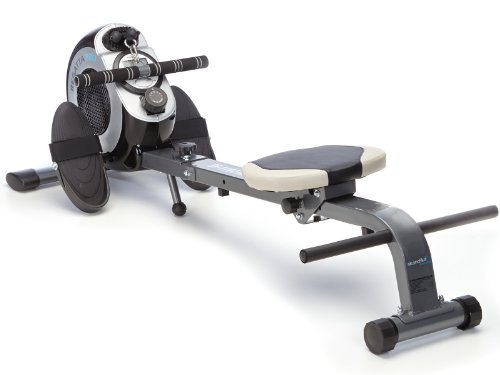 The key features of this model include:
Easy folding system
Heart rate analysis
Advanced computer system
Adjustable handles for a refined workout
Portable design
Resistance adjustment knob
All of these great features really put this rowing machine in a class of its own.
Skandika SF-1140 Rowing Machine Review
During our review, we were shocked at how clever the entire design of the SF-1140 is compared to even high-end models. Quiet and low maintenance, the polyfibre system uses magnetic resistance, adjusted with the turn of a knob on the front of the machine.
A total body workout, users will work 86% of their body when rowing.
But it doesn't stop there. This machine is adaptable thanks to the adjustable handles offered. Users can use the handlebar to engage in a rowing session, or they can try and target the chest by switching to the single handle that can be used to work your: biceps, triceps, chest and core, among many other muscles.
It's like your own mini full body machine packed into a small rower.
Speaking of small, simply grab the two handle to fold the unit up into the corner. Wheels allow you to easily transport the machine to the corner of the room when needed.
And when it comes time to challenge yourself, you'll find that the training computer provides you with the advanced features you need to push yourself to the limits. The onboard computer is trained over time, and it will track your:
When trying to turn up the performance, you'll find that you can track your performance and program new training goals right into the console. This allows you to take full control of your workouts, and it's a small feature that can mean the difference between success and failure when rowing.
The maximum user weight is 110kg, and there are 5 resistance levels that are moderately difficult.
Pros
Affordably priced
Takes about 40 minutes to assemble
Adaptable to offer a plethora of exercise options
Heart rate monitoring option
Cons
The one thing we noted when we reviewed this rowing machine is that it's a bit cramped compared to the competition. And this may have been a core design concept to appeal to people who live in flats where there may not be enough space for a long rowing machine.
If you're over 5'8", you may find that this unit is a little too small for you.
Aside from this one minor gripe, this is a fine rowing machine that is packed with features everyone can appreciate. Priced just right, this is a good choice for new and intermediate rowers who want to get a great at-home workout.
Save