One of the best rowing machines available. The Tunturi R25 has all of the features needed by experienced users, yet has a price that is perfect for anyone trying to get fit or lose weight. It is white and grey, foldable, comes with transport wheels, and allows for resistance adjustment to make your rowing session more rigorous.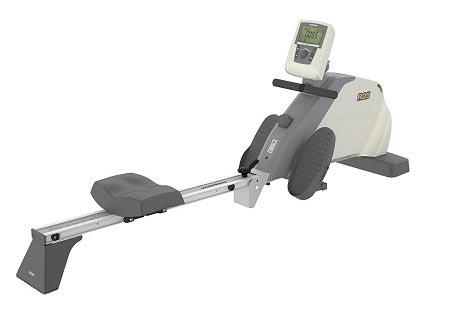 Features
Manually adjustable resistance
Foldable design
Transport wheels
200L x 54W x 80H
Heavy-duty construction
Ergonomic saddle and foot rest
Magnetic brake operation system
5" LCD display
32Kg weight
It is not too heavy, but you will need someone to help you bring the box inside. It weighs about 32Kg in total, so it can be moved by one person prior to assembly if needed.
Pictorial instructions are provided, but there is no text to follow.
Easy to assemble, you'll be able to follow the instructions and have it assembled within an hour. You won't need anyone to help you move the machine to its desired position because there are transport wheels that make the job much easier.
Seat
The seat is a little wobbly even when tightened all the way, but this is of no concern as you'll still be able to row safely. Comfortable, the seat is ergonomically designed to fit the user's contour. The footrests feature the same design. While adequate for normal use, the seat does get uncomfortable after an hour or so of rowing.
Fluid and easy to row, it provides great resistance that is changed manually by the user. When rowing, the noise level is far lower than air models. You can easily row for years without any issues arising.
The seat roller has been known to break after 18 months of use, but the manufacturer does provide cheap replacement parts.
A monochrome console display allows you to keep track of your workout. The 5.5" display offers the following information:
Time
Distance
Energy consumption
Heartrate
Strokes per minute
Resistance
Resistance is adjusted manually right below the console. One of the biggest complaints among users is that the resistance is not high enough for fit users that are trying to build strength. That being said, the levels are perfect for anyone that is trying to build stamina and endurance.
When you're done with your session, you can fold the machine up. It is light enough that it can be folded and unfolded with one arm.
Perfect for anyone that is trying to get fit, this unit can accommodate users up to 135kg in weight.
Pros
High-quality design
Affordable price
Precise LCD display
Foldable and movable model
Easy to assemble
Low noise output
Cons
Resistance levels not adequate for strength building.
Footrests tend to creak.
This machine isn't the Concept 2, but it is a rower that is a fraction of the cost and is built with high quality materials. Known for being one of the best introductory models, I wouldn't recommend this to bodybuilders or professional athletes, but I would recommend it to anyone trying to get fit and lose weight.
The monitor is one of the machine's best features because it is highly accurate.
Durable, it can last for years without needing replacement parts under normal use. The manufacturer does provide affordable replacement parts to users, and replacing the broken piece is a breeze. Customer service will even guide you through the process if needed.
This machine has a high-end build at an affordable price. If you're trying to lose weight, build stamina or endurance and want a way to exercise at home, this may be just the product you are looking for.