WaterRower offers a premier line of rowing machines. The WaterRower Classic is one of the top models in the world, and comes in a beautiful walnut wood finish. This model can accommodate users up to a maximum weight of 350 kg, comes partially assembled (necessary tools are provided), offers heart rate monitoring and also comes with the superb S4 LCD monitor.
During our hands-on review, we finally experienced the same workout we would get when rowing on water. It doesn't get more realistic than the WaterRower classic.
WaterRower Classic Features
S4 LCD monitor
Heart rate monitoring
Handcrafted with walnut wood
Dimensions of: 221 cm x 40 cm x 54 cm
28 kg weight
PC cable included
Five-year frame warrantee
Three year parts warranty
Performance monitoring
True water resistance
When you use most rowing machines, they will not be able to mimic the exact motion and assistance that water provides. Rowing in the water, your intensity level will dictate how much resistance the water provides during rowing.
The Classic provides the same exact resistance you would get on the water.
Assembly
Assembly is a breeze as the unit comes partially assembled. All of the tools that you need to finish assembly are included.
Getting Started
When you first sit on the unit, you'll be able to strap your feet into place and start rowing naturally. The front of the unit contains the paddles, which are submerged in water, and will provide natural resistance. The faster you begin to row, the more resistance will be provided just as you would experience in the water.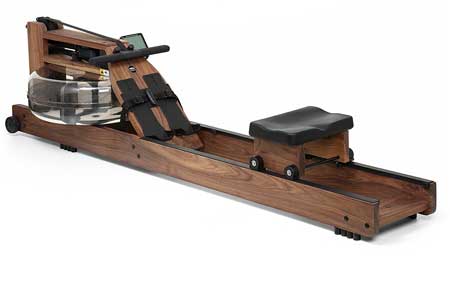 If you have the stamina to perform an hour-long workout, you'll burn a whopping 1,000 calories per hour.
All of your muscle groups will be engaged, providing a true full body workout. From your shoulders and arms to your quadriceps and calves, your entire body will be worked when rowing on this machine.
Quiet and tranquil, the water provides very little noise production, and this model is built to last. Handcrafted with American walnut wood, this rower is meant to withstand everyday usage. Built for commercial production, this is the high-end range of rowers that you'll find in the world's best gyms.
WaterRower is a brand that is trusted by Olympic athletes – it's that good.
One of the best monitoring systems in the world, the S4 allows you to keep track of vital workout data during each exercise session, including:
Stroke rate
Total strokes
Distance provided in:
Intensity
Time
Calories burned
There is also an included heart rate monitor strap that will display your heart rate right on the front of the unit. The Classic is one of the top rowing machines in the world, and I guarantee that you've never experienced a work out this complete before.
Pros
The S4 monitor is robust
Resistance is provided naturally through water
Operation is near silent
Handcrafted to last for years
Cons
The only downside of the Classic, or any water rower for that matter, is that these units cost far more than air or magnetic rowers. You're sacrificing a little bit more money for a true rowing experience and quality that lower-end units simply cannot offer.
The in-depth monitoring system is worth the price, not to mention the handcrafted design and water rowing capability.
If you want the closest thing to rowing in a lake or bay, this is your best option.
Save