You're ready to buy a rowing machine (great!). There's just one problem: you don't have a whole lot of space.
Compact rowing machines are great, but you need something even better than that. You need a foldable rowing machine.
Okay, so how do you find the right one?
Rather than wasting time sorting through each model yourself, we've done the hard work and gathered the top 5 best folding rowing machines on the market.
1. York Excel 310 Folding Rowing Machine Review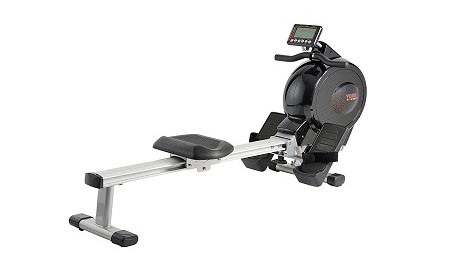 The York Excel 310 features a 6kg flywheel with 16 levels of magnetic resistance and 24 built-in programs.
An advanced computer console offers vital feedback, including calories, distance, time, SPM, recovery, temperature, clock and strokes. The 5.75" LCD display is easy to read, but may be harder to see in the dark due to the lack of backlighting.
And to help you boost your results, a built-in HR receiver lets you track your heart rate. There's also the option to use a chest strap with this rower.
If you're looking for a portable rowing machine that accommodates all fitness levels and lets you vary your workout, the Excel 310 may be the ideal choice for you.
Pros
Multiple workout programs to boost results
Resistance levels create a challenging workout
Console offers vital workout feedback
Durable
Ability to monitor your heart rate
Cons
Display is not backlit, which can make it difficult to see
Although not incredibly important, we should note that the LCD display is not backlit, which can make it difficult to see in low light conditions.
Aside from this minor flaw, the York Excel 310 delivers a great workout while offering a variety of useful features and great durability.
Learn more about the York Excel 310 folding rowing machine.
2. Marcy RM413 Foldable Rowing Machine Review
The RM413 from Marcy is compact yet robust and offers all of the features you could want in a rowing machine.
Eight levels of magnetic resistance add challenge to your workouts, and a 7kg flywheel is built into the machine.
The aluminum seat rail adds durability, and the contoured seat is comfortable to sit on – even for an extended period of time.
The built-in computer features an LCD screen that displays distance, speed, time, calories, strokes per minute, and stroke count.
We like that the transportation wheels make it easy to move this machine, and of course, the folding feature makes it easy to store this rower in a corner or closet.
Altogether, this machine weighs 58 pounds, which is relatively lightweight compared to other models on the market.
Pros
Lightweight, compact design
Various resistance levels make workouts more difficult
Computer display provides you with vital feedback
Quick-release pin makes it easy to fold up this machine
Cons
Resistance levels are lacking a bit
Our only complaint with this rower is that it's lacking in resistance levels. While this machine is great for beginner and intermediate users, it may not be difficult enough for advanced users (like athletes).
That said, the RM413 is durable, lightweight, compact and still delivers a great rowing workout.
View pricing and availability information on Amazon.
3. Marcy Regatta Folding Rowing Machine Review
Another favorite from Marcy, the Regatta folding rower offers a smooth rowing experience and a quick-release pin system that makes it easy to fold up and a portable rowing machine.
Like the previous model, there are 8 magnetic resistance levels built in, which can be adjusted using the tension dial below the rowing handle.
A 4kg magnetic flywheel ensures that your workouts are near silent, and rowing is incredibly smooth.
A sturdy steel frame can accommodate users up to 17.3 stone. The transport wheels combined with the folding mechanism make it easy to store and move this rower wherever you please.
The swivel footpads allow for natural movement, and the security straps keep your feet locked in. The LCD display also provides you with vital feedback, including calories, speed, distance, time and strokes per minute.
Pros
Compact design is great for small spaces
LCD display gives you useful workout feedback
Smooth and quiet rowing
Highly durable
Easy to fold up and store away when not in use
Cons
Although there are resistance levels, which boost results by making your workouts more difficult, there are no built-in workout programs to use. Programs are great for adding variety to your rowing routine and help you avoid plateaus.
Marcy's Regatta folding rower delivers a brilliant workout, and its simple design is part of what makes it so appealing. With a solid construction and multiple resistance levels, you'll be able to reach your fitness goals using this machine.
Learn more about the Marcy Regatta folding rowing machine.
4. Body Sculpture BR3010 foldable Rowing Machine

If you prefer minimalistic designs, the BR3010 from Body Sculpture is an excellent choice. Adjustable magnetic resistance allows for smooth rowing, and the foldaway feature makes it easy to store this machine away.
A small on-board computer monitors stroke count, time, calories and distance. The large footplates have a pivoting feature with a security strap to keep your feet in place.
The unique thing about this machine is that you can also use it for other exercises. Included is a single bar hand grip as well as two separate handles that you can attach to perform arm, chest and upper back workouts.
Pros
Versatile – can be used to perform other exercises
Lightweight and compact
Easy to fold up and store away
Minimalistic design is pleasing
Cons
Only three resistance levels are available, and this machine uses a three-bungee cord system to make workouts more difficult. The resistance levels may not be ideal for experienced rowers.
For most users, the three levels of resistance will more than suffice, and the versatile design of this rower offers an excellent value for the money.
Learn more about the Body Sculpture BR3010.
5. V-fit AR1 Artemis 2 Air Folding Rowing Machine Review
A club-style rower with a chain drive and air resistance. The V-fit AR1 features a contoured, comfortable seat and a compact design that's easy to fold up.
The footplates are pivoting, and can be adjusted to two positions, while the Velcro straps keep your feet in place.
The three-screen monitor keeps track of six important stats, so you can track your progress.
Pros
Air resistance allows for a challenging workout
Comfortable seat allows for extended use
Built-in computer lets you keep track of workout stats
Easy to fold up and store
Cons
The only complaint with this machine is that it can be noisy, but that's to be expected with an air resistance rower. Some users, like us, find the noise (a slight "whooshing" sound) to be pleasant.
If you're looking for a club-quality rower that's affordable and well-built, the V-fit AR1 Artemis 2 is an excellent choice.
Click here to find out more about the Artemis 2.
Buying a rowing machine is a personal decision, but these five machines offer affordability, durability and excellent performance. All are well-rated by users, and designed to give you a workout that will help you reach your goals.