What is the best rowing machine in 2023?
Depending on your budget and what features you require this is not a straightforward answer. In this article we have gathered some of the top rowing machines available for a range of budgets.
Overall we think that the JLL R200 is the best if you have the budget for it.
If you're in a hurry, you can quickly see our top picks from the table below:
They offer a high calorie burning workout that will help you lose weight and reach your health and fitness goals. In addition, they can be easily stored away and offer much better value for money than you get with other fitness equipment.
So if you are looking for a rower that fits your requirements, take a look at this guide of the best rowing machines:
Best Rowing Machines 2023 – Top Picks
If you have a budget in mind, then this section is for you. We've scoured the internet to find you the best value models at a variety of price points ranging from under £100 to over £1000.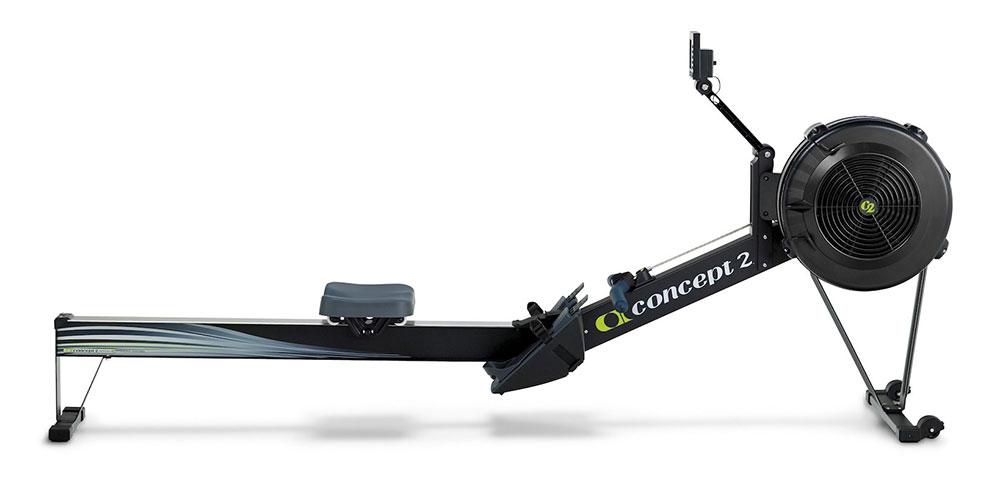 Widely considered the best rowing machine on the market, the Model D is the go-to machine for commercial and home gyms. Priced at under £1,000, this model is a sturdy well-engineered machine that will provide a great cardiovascular workout and last for years to come.
In addition, it comes equipped with the excellent PM5 onboard computer. This provides plenty of program options and accurately tracks a wide range of metrics. If you have a compatible smart phone (iPhone or Android), you can connect to the monitor wirelessly to get extra feedback on your workouts.
This rower also is the top pick for HomeGymSupply with their best rowing machine top 10 guide and many other sites too.
---
If you want the most authentic rowing experience, then you can do no better than using the WaterRower Original. Water resistance offers a smooth and tranquil workout while providing plenty of resistance. In addition, it comes built with a high-quality handmade wooden frame and can feel the quality with each stroke. However, the high level of workmanship does come at a price and is one of the priciest models in our list.
Nonetheless, it also comes with the S4 monitor which has all the features you could ever dream of. You can even race other users over the internet on a virtual river. Without doubt WaterRower offer the most enjoyable rowing experience that is as close to real rowing as you will get from the comfort of your own home.
---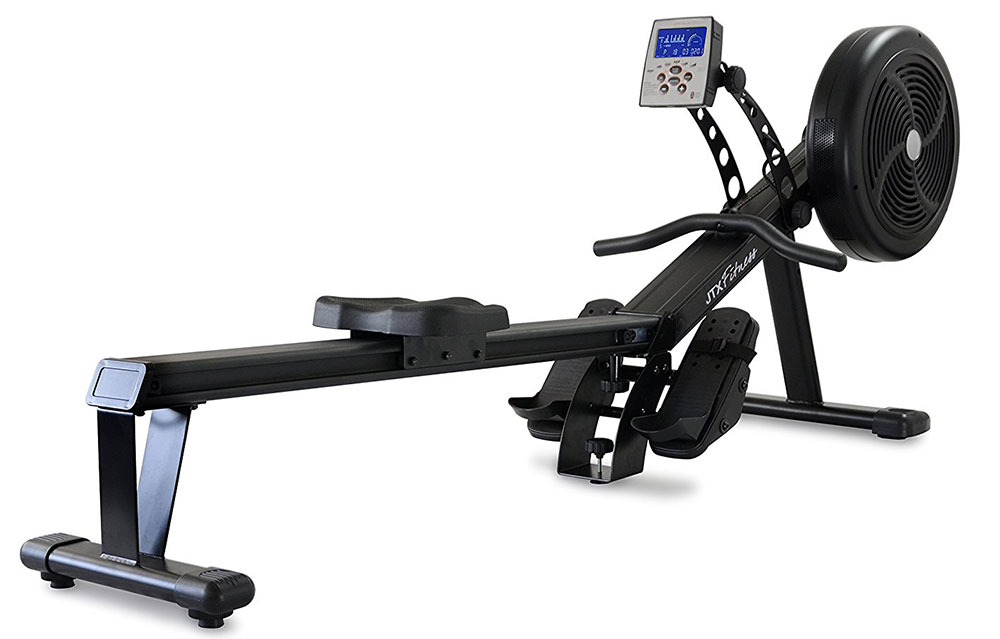 Combining air with magnetic resistance to create a smoother stroke is why this mid-range rowing machine is ideal for strength and endurance training.
Related: Take a look at our best adjustable dumbbells guide if you want to increase strength.
Built with a foldable aluminium frame it is perfect for home. In addition, it can support users up to a maximum weight of 20 stone and the long seat rail can comfortably accommodate users 6'3" and taller.
There are 16 levels of resistance to choose from and 8 pre-programmed workouts all controlled from the large LCD console. There is plenty of resistance of resistance to suit most users and it comes with a 2-year warranty for added peace of mind.
---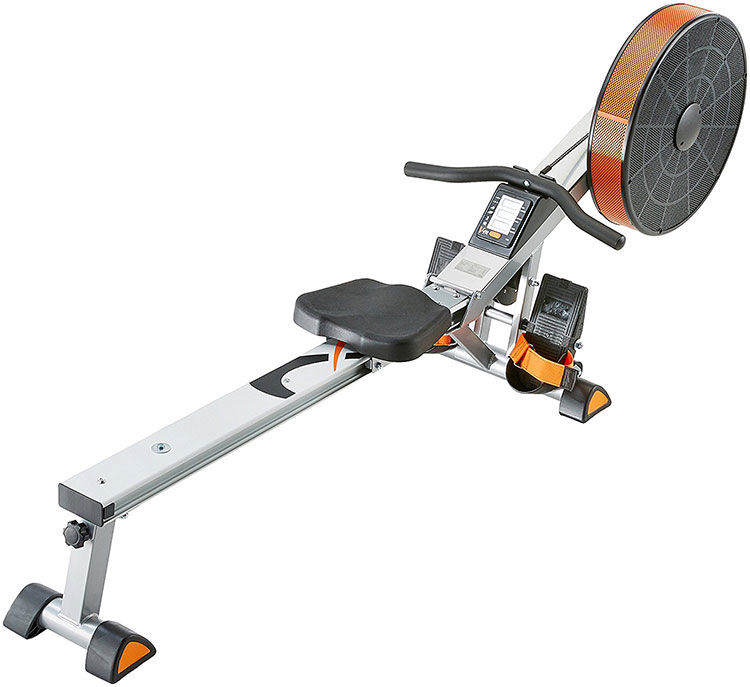 If you're on a tighter budget but want a rower that will deliver a great workout without costing an arm and a leg, then the Tornado is a great option. Comfortable to use, foldable and strong, it can support users up to a maximum user weight of 18 stone. The air flywheel offers varied resistance which becomes more difficult the harder you row.
The built-in console monitors your number of strokes, time, distance, strokes per minute and keeps track of the number of calories burnt. While the display lacks the features we have seen previous models, this indoor rower can be picked up for under £250.
---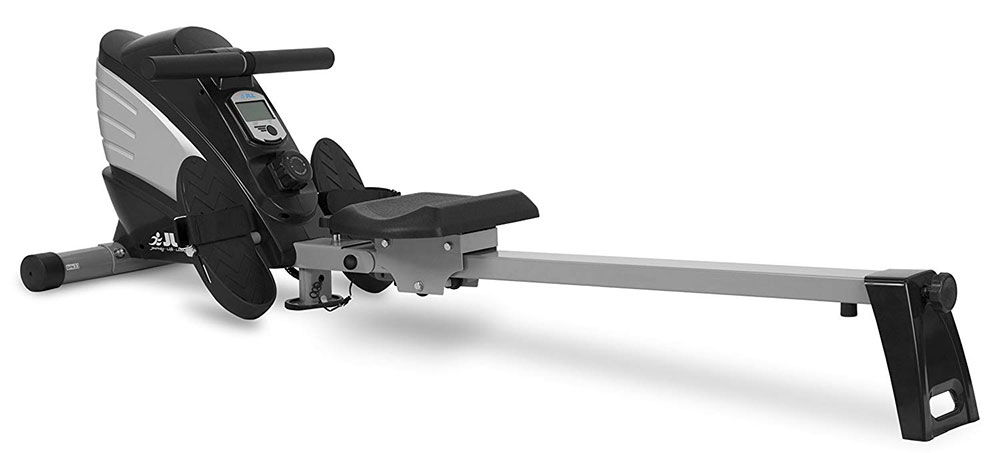 As the current top seller on amazon, it is no surprise the R200 is a good all-round rower. In addition, its compact/ foldable design makes it a great option if you're short on space.
There is a clear 3" LCD display which tracks total count, calories, distance and time. Furthermore, there are 10 levels of magnetic resistance which provides moderate resistance suitable for light cardiovascular workouts. For under £200 it is a great value for money and ideal for beginners.
---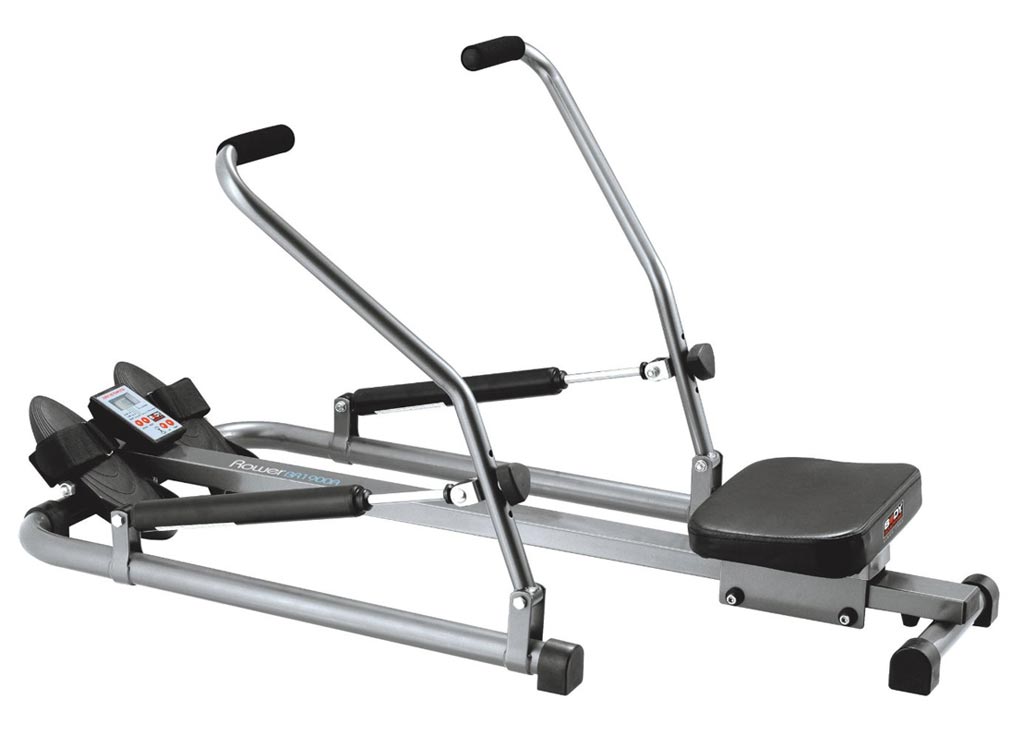 If you want a cheap and cheerful, no frills option this hydraulic rower by Body Sculpture is a great choice. With twin hydraulic cylinders that has 12 levels of resistance it offers plenty of variety while also being quiet. The comfortable to use and the rowing arms act independently of each other to feel like real oars.
The monitor is basic but easy to use and tracks the time, number of strokes and calories burned. However, its compact design may not suit taller users.
---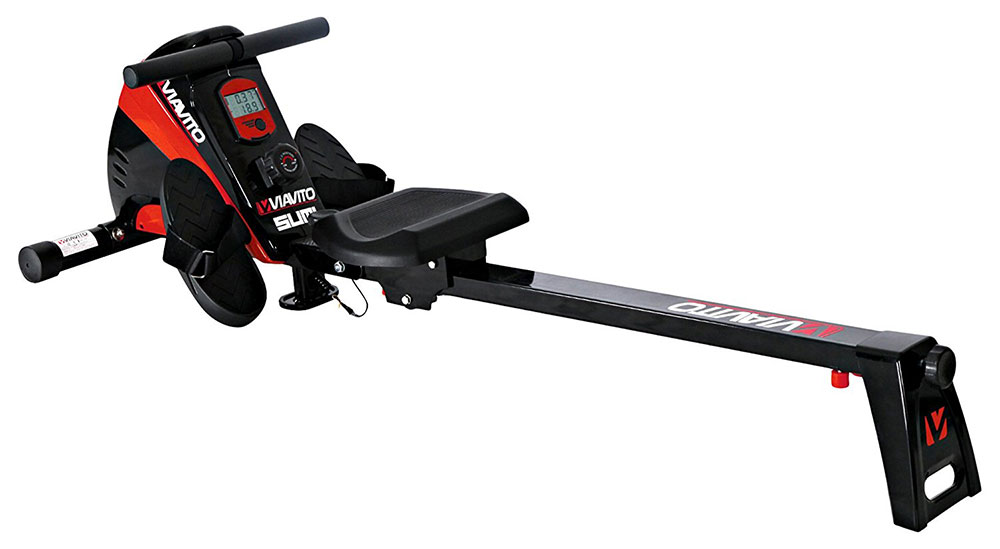 With 10 levels of magnetic resistance to choose from, the Sumi isn't going to provide the most strenuous of workouts. However, for under £200 it provides a good cardiovascular workout in a compact and foldable design suitable for home users. In addition, it has a strong frame which is capable of supporting users up to a weight of 19 stone. The clear LCD display tracks distance, time, calories and strokes per minute. While not the most advanced model, it does the basics well and is fantastic for anyone looking to improve their fitness.
---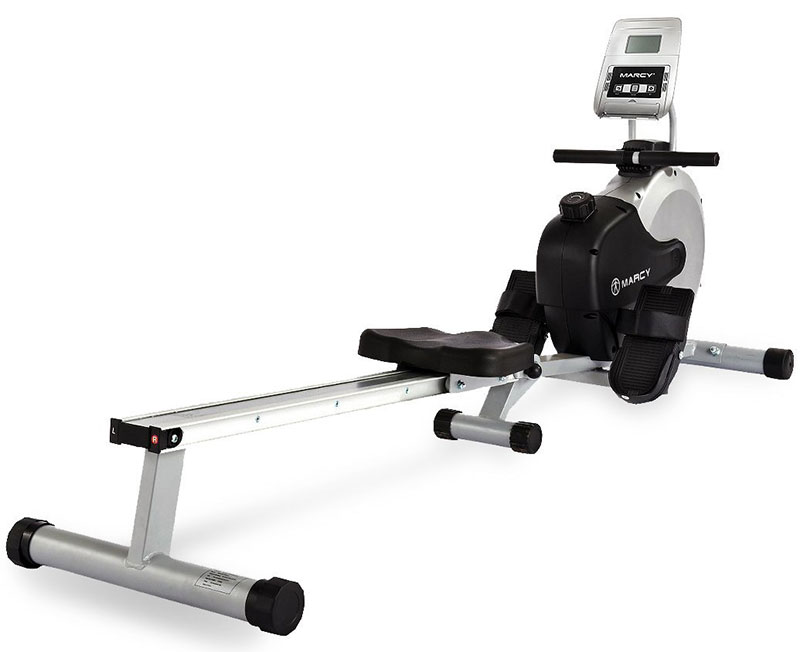 Built with a solid steel frame, clear LCD display, foldable design and quiet magnetic resistance with 8 levels to choose from. While the resistance is light and only suitable for cardiovascular workouts. It is designed for beginners looking to get back in shape. The LCD display is well positioned and easy to see showing all the basic information you may need. Finally, for under £200 this model is comfortable to use and is a sound investment for anyone looking to lose some weight.
---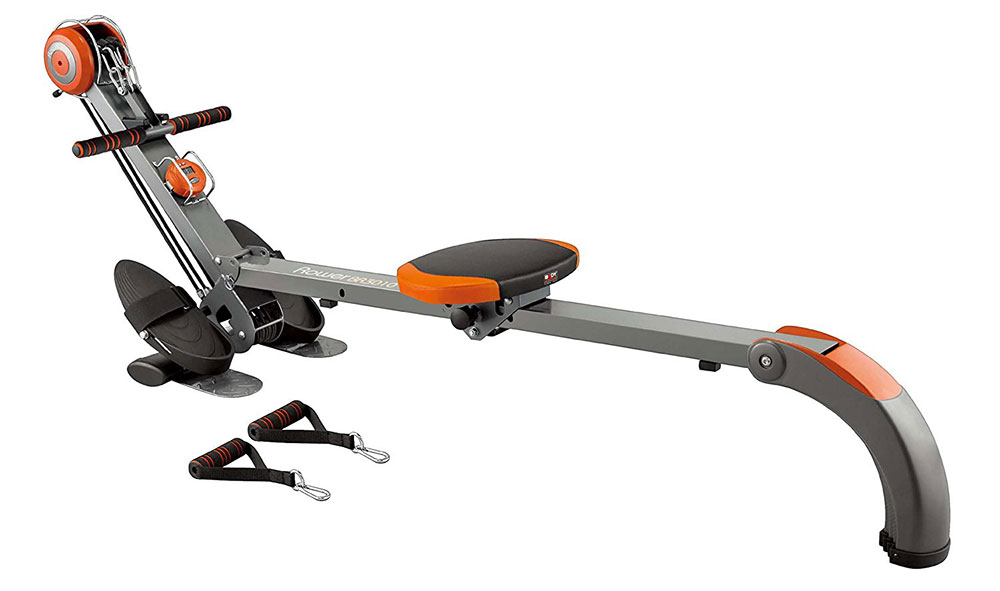 If you are on a shoestring budget, this is the model for you costing about £100. Versatile, it uses resistance bands which can be used to perform a variety of different exercises by swapping the rowing handle out for two single grips. Therefore, you can tone up your arms, chest and shoulders as well as row.
The no frills display tracks time, calories, stroke and has a scan feature. This is a very basic unit with the price to match and is perfect for anyone looking to lose weight.
Related Best Rowing Machine Reviews:
Buyers Guide – Finding the Perfect One for you
You've decided to buy a rowing machine. Congratulations! You've just taken a major step in improving your health and fitness level. Now comes the most difficult part: finding the right one for you. If you've never owned a rower, you may not know exactly what to look for. This guide will give you some insight into which features are most important, so you can choose a model that will help you achieve your fitness and weight loss goals.
Resistance Type
One of the first and most important things you need to consider is resistance type. There are four main types to choose from: air, water, hydraulic and magnetic. Each resistance type comes with its own set of advantages and disadvantages.
Our reviews have also been split up into different resistance types, enabling you to see all the machines available for that particular type.
Air
Air resistance rowers are one of the more common types, and they generate resistance through a flywheel. Some machines allow you to adjust the resistance level using a notch on the side of the wheel. Aside from this adjustment (if available), your rowing pace will generate resistance.
With an air-based machine, the harder and faster you row, the higher the resistance will be. Because workouts intensify as your effort intensifies, air rowers ensure that you maintain a higher level of expended effort.
Perhaps the only drawback with an air rower is that it produces noise as the wheel turns. That being said, the flywheel also produces a nice breeze as you exercise.
Water
Water resistance is designed to mimic the experience of real rowing, and are intended for serious users. Most of the high end rowers on the market use water resistance.
As you may have guessed, these rower machines use water to generate resistance. They come equipped with large water-filled tanks that create resistance as you row.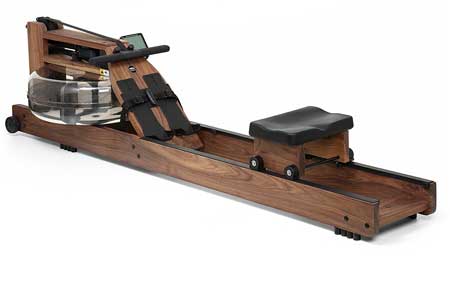 Like air resistance, the harder and faster you row, the greater the resistance will be. Each time you row, the paddles in the water tank revolve. The moving water drags against the paddles to create resistance.
A water resistance model tends to be quieter than air rowers, although you can still hear the sound of the water moving in the tank. Many users find the "whooshing" sound of the water in the tank to be relaxing and soothing.
These rowers require little maintenance, but because the tank needs to be filled with water, they can be very heavy and larger than most other rowers.
Hydraulic
Hydraulic rowers are inexpensive, smaller in size, and quieter than other rower types. If you are short of space and would like an easily portable machine, then a hyrdraulic system may be the right one for you as they tend to be compact and easy to move. That being said, they're not the best choice for intermediate or advanced users.
To generate resistance, hydraulic machines use pistons. You won't get the same smooth rowing feel that you would get with an air or water rower, but it will offer a challenge that will help you improve your fitness level. Therefore if you are looking for a cheap rowing machine to have at home then this type may be the one for you.
Magnetic
One of the most popular resistance types for home users, is magnetic. One of its major benefits is that it's very quiet, but its compact design is also a crowd-pleaser.
These machines use magnets and a flywheel to adjust the resistance levels. You can increase or decrease the resistance either by adjusting a slider or through a digital console.
Unlike hydraulic rowers, magnetic ones are capable of providing that smooth rowing feel that users are looking for.
If you are looking for a folding model, then chances are it will be a magnetic rower, as the compact design allows for easy storage and makes it a great choice for people with smaller homes or flats. One of the top selling magnetic models on the market is the York R700, therefore have a look if you are interested in a magnetic rower.
Display
If you are a first time buyer/user we recommend getting a machine that has a basic display. It may seem trivial, but a digital display will allow you to track your workouts and progress.
Most machines will come with a built-in display – even the cheap models. Look for machines that will tell you:
Calories burned
Workout time
Strokes per minute
Distance
Heart rate
These are just the basic stats that you want to be able to track. Advanced displays may offer other stats as well. The Concept 2 Model d's display, for example, allows you to race against a targeted pace to help you reach your goals and is considered the best machine available on the market.
While advanced features aren't necessary, you do want to ensure that you can at least track the basic stats listed above.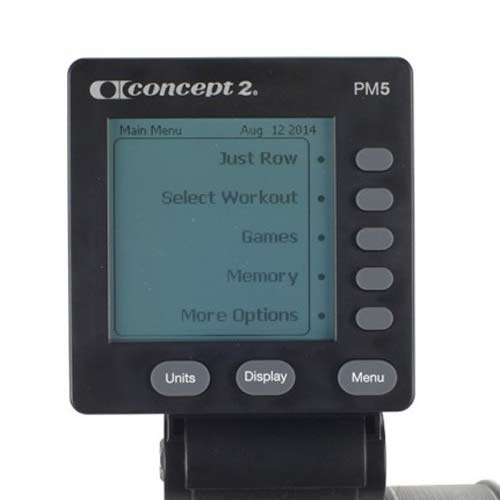 Folding
If space is a concern, a large water rower may not be the best option as these models typically are quite heavy and bulky so make sure you know the dimensions of your storage space before you buy.
Magnetic, hydraulic and some air rowers will offer a foldable design that allows you to save space. Most also feature wheels that allow you to easily move the rower to the corner of a room or a closet when it's not in use.
All of our reviews will indicate whether the machine is foldable.
Seat Rail Length & Weight Capacity
Seat rail length is a concern for taller users. Before buying any rower, be sure to look at the length of the seat rail to make sure it's long enough for you or anyone else who will use the rower.
Weight capacity is also important. The rower you choose should be able to easily accommodate your weight and any other person who may use it. Hydraulic rowers may not have as high of a weight capacity as an air or water rower, so keep that in mind when choosing a model.
Heart Rate Monitor Compatibility
Most people overlook the importance of being able to use a heart rate monitor during a workout. Your heart rate is a good indication of how intense (or easy) your workout is. If you're trying to improve your fitness level and burn extra calories, you'll want to make sure that you hit your target heart rate and stay there.
Most machines come with built-in pulse monitoring, but if the machine you're looking at doesn't, check to see if it's compatible with a separate ones.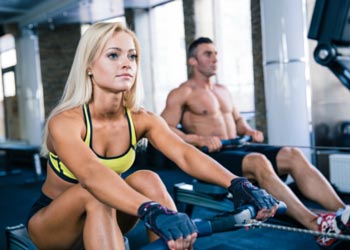 Built-In Workouts
Not sure what a workout really consists of? Well, some models have built-in workouts which will help to take the stress out of your workout. Depending on your personal goals, this may or may not be important to you.
Built-in workout programs offer the benefit of varying your workouts and providing you with a challenging rowing session. Some machines offer dozens of built-in workouts for all fitness levels, while others offer just a few. If you're looking for a well-balanced workout, consider a machine that offers built-in programs.
Warranty
One of the final things you need to consider is the rower's warranty. The vast majority of rowers will come with some type of warranty, but models that offer five-year or longer warranties are a smart choice.
While a warranty will not affect the performance of the rower, it will give you peace of mind in knowing that your investment is protected if something should break or malfunction.
These are the primary things to be on the lookout for when buying an indoor rower. Resistance type will likely be the deciding factor in which type of rower you choose, but be sure to keep all of the other points in mind.
Final Thoughts
Well, there you have it. I hope that you have found the information in our best rowing machine guide useful and that you now feel much more confident about choosing the right rower for you.
Make sure to check out our detailed rowing machine reviews for a closer look at each model and I wish you the very best of luck on your fitness journey.
Happy rowing!
Related Posts:
Best Free Standing Punching Bag Guide