Skip intro? Jump to: Best Rowing Machines 2018 – Our Top Picks
Looking for the best rowing machine? We've put together this comprehensive guide of rowing machine reviews so you can make the right choice.
Because with the right rower, you'll be much more likely to meet your personal health and fitness goals.
If you're in a hurry, you can quickly navigate to the best rowing machines in their category using the links below:
At a Glance
Best Rowing Machines 2018 – Our Top Picks
What's the Best Rowing Machine for your Budget?
If you have a budget in mind and you want to get the best rowing machine for your money, then this section is for you. We've scoured the internet to find you the best value rowing machines at a variety of price points ranging from under £100 to over £1000.
---
Best Budget Rowing Machine
If you want to reap the benefits of rowing on a shoestring budget, then a cheap and cheerful, no frills option is this offering, the Body Sculpture BR1900.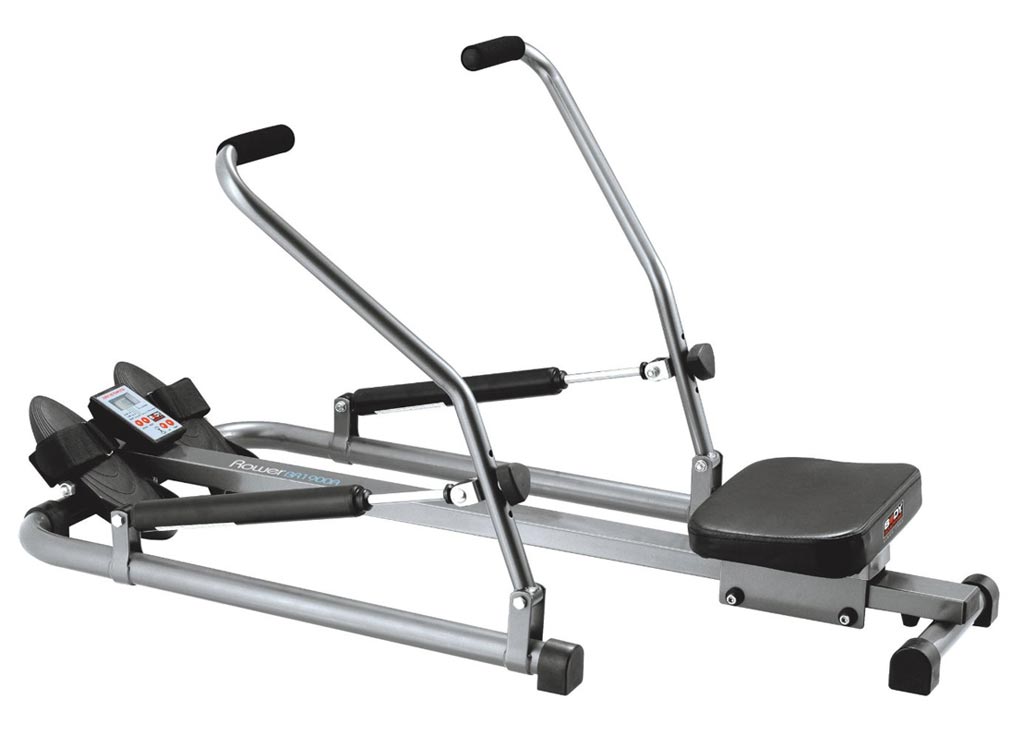 This compact machine has 12 resistance levels. The seat is pretty well cushioned, and it has comfortable handles.
It's easy to put together and It comes with a basic monitor to track your time, number of strokes and theoretical number of calories burned.
A nice feature of this machine is that the foot rests, which pivot have really good ankle support. The foot plates are also large enough to accommodate most shoe sizes.
It isn't a foldable model, but by removing one of the screws you can fold the back-leg underneath for storage.
This is a lightweight rower that's easy to move around and it's great option for beginners.
We have had some reports of this machine slipping, but this is easily solved by placing a mat underneath. Because of its compact size, this machine may not be suitable for those over 5ft.10" tall.
This is a sturdy, quiet machine that comes highly recommended and is the best rowing machine if you're on a tight budget.
Read more in our Body Sculpture BR1900 Twin Hydraulic Rower Review.
---
Best Rowing Machine Under £200
Our recommendation at this price point is the Viavito Sumi Folding Rowing Machine.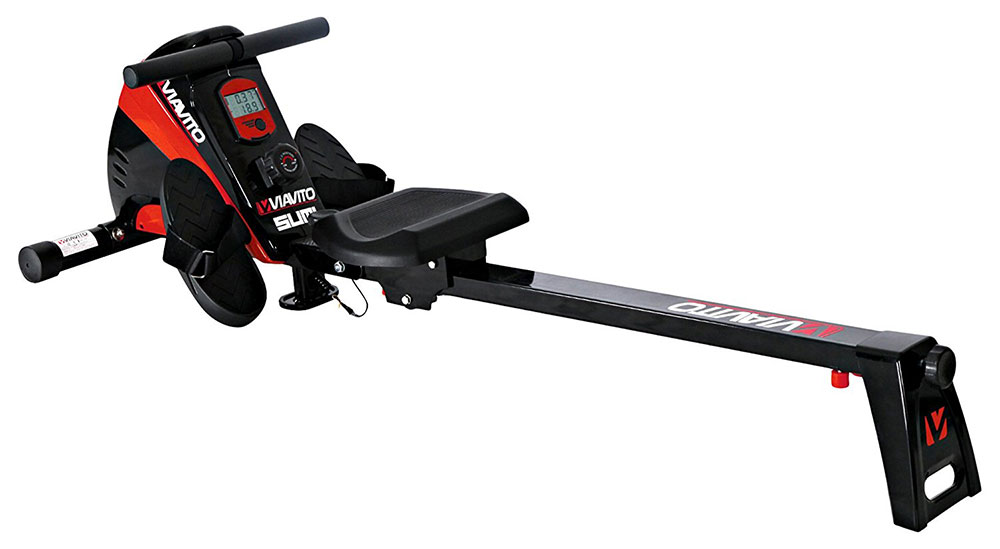 It's magnetic, it has 10 levels of resistance and it is suitable for users with up to a 43.5-inch leg length. It's a good solid machine that allows you to get nice smooth strokes, and it's pretty quiet too.
Downsides include the seat comfort. This is normal, the more money you spend on a machine the more comfortable the seat will be. You can always use a cushion (or wear padded cycling pants) to make the seat more comfortable.
Read more in our Viavito Sumi Folding Rowing Machine Review.
---
Best Rowing Machine Under £500
The JTX Freedom Air Rower is ideal for strength and endurance training. It combines air with magnetic resistance to create a smoother stroke.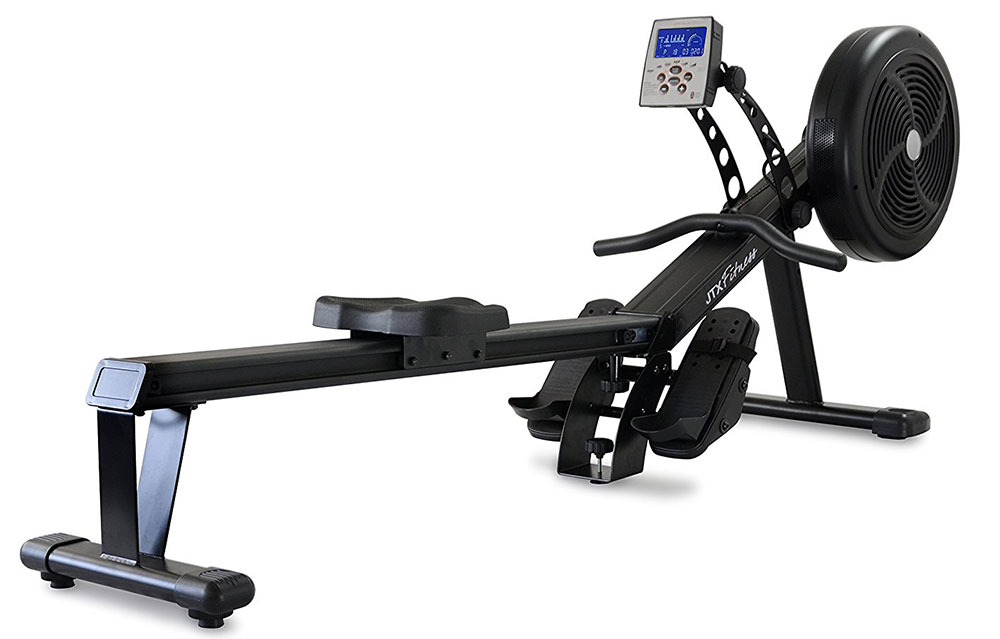 It comes with a 2-year warranty on the parts and labour. It also has 16 different resistance levels and 8 program options for training.
It's foldable and has wheels. The frame is also aluminium so it's lighter and easier to move around than machines with a steel frame.
If you are tall or heavy, this is a great machine to get. It can support a weight of up to 20 stone and is a great machine for weight loss. We've heard from people as tall as 6ft.3" who are loving this machine.
Downsides. Some people have experienced a slight lifting at the front end, this can be easily fixed by adding some extra weight to the front when in use.
Read more in our JTX Freedom Air Rower review.
---
Best Rowing Machine Under £1000
Priced at under £1,000, this Concept2 Model D rower is a sturdy well-engineered machine that is considered by many to be the best rowing machine on the planet, and this is not an exaggeration.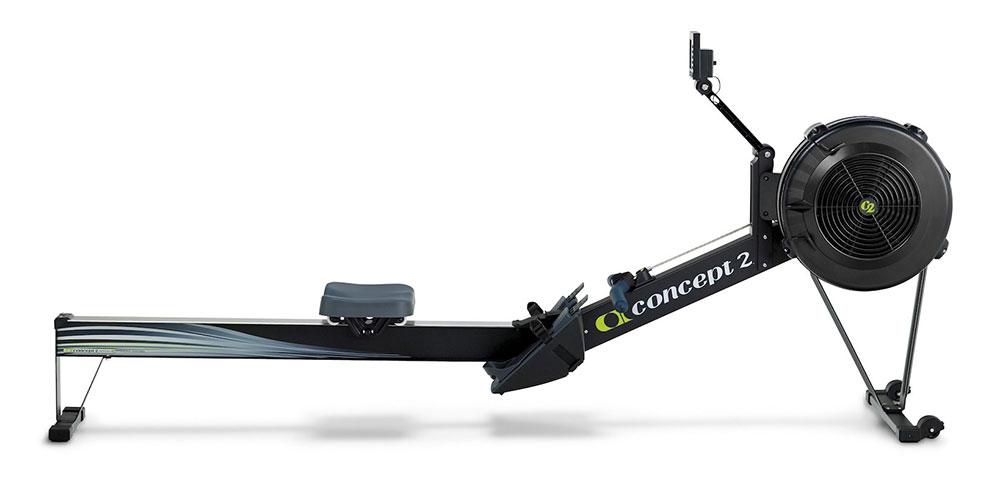 These rowers are built to last, and because of that a lot of gyms use them.
Our recommendation in this category has amazing reviews, suits almost everyone, and in our experience, most people love this machine.
If data is your thing, the onboard computer on this one is a major selling point. It's great, there are plenty of program options and it's really easy to use. You can even play games while you row, which is great for taking your mind off clock watching!
If you have a compatible smart phone (iPhone or Android), you can connect to the monitor wirelessly to get extra feedback on your workouts.
This machine is extremely versatile and comfortable. The footrests are designed to accommodate all sizes and are easily adjustable. It also has very comfortable well-designed handles.
Its quick release mechanism means that you can easily split the machine into 2 pieces for better storage.
Concept2 machines also hold their value very well.
Downsides, there really aren't that many! It's not the quietest machine on the market, but it's not so loud that it would bother your neighbours.
Read more in our Concept2 Model D review.
---
Best Folding Rowing Machine
Foldable rowing machines like the JLL R200 Rowing Machine can be a great option if you're short on space.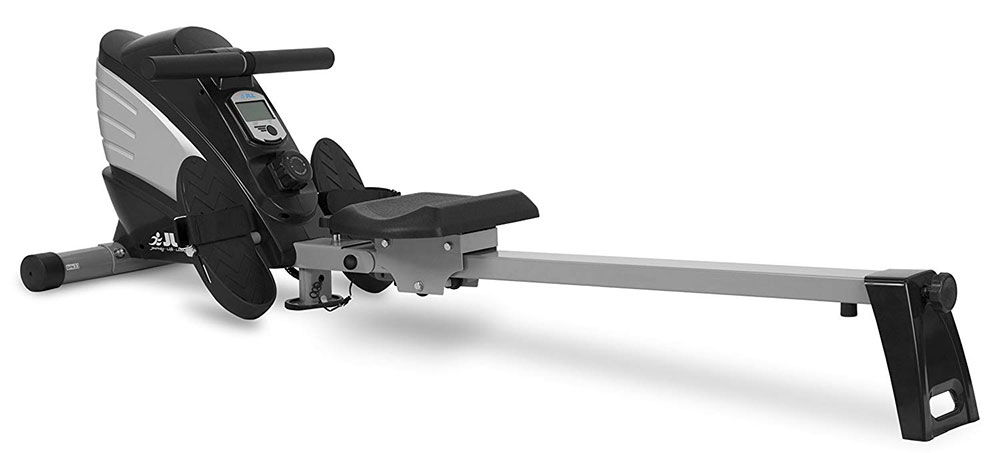 This magnetic rowing machine comes with 10 levels of resistance which are adjusted via a dial. It can hold up to 100kg and is suitable for those 5ft 11" and under. The maximum recommended inside leg length for using this machine is 90".
It is a compact machine that has built in wheels, making it ideal for transporting from room to room.
The LCD monitor has a 3" display which tracks total count, calories, distance and time.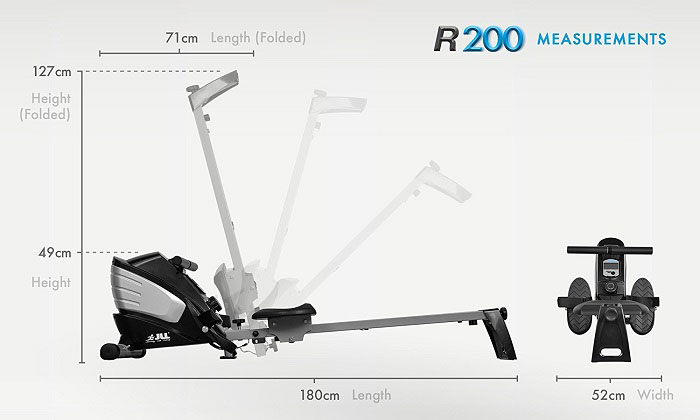 The foot pedals are secure, comfortable and versatile. It also has foam-padded handles for extra comfort.
Being magnetic, it does not make a lot of noise, so it's perfect if you row at unsociable hours or want to keep your neighbours happy.
This is a very sturdy machine, however some people have experienced slight movement when using it on a non-carpeted surface. You may want to put an exercise mat underneath should you experience this.
---
Best Water Rowing Machine
If you want the best and most authentic rowing experience, then you can do no better than a water rowing machine. Water powered rowing machines offer a smooth and tranquil workout experience and are also eco-friendly.
In our opinion, the best water rower on the market is the WaterRower Original:
The reviews for this rower are overwhelmingly positive. It's handmade in the USA. It's almost silent, easy to set up and use, and you can store it upright. Its wooden frame and modern design mean that it also looks good as well as feeling great to use.
Read more in our WaterRower Original review.
---
Best Air Rowing Machine
If you're looking for a good mid-range air rowing machine, that monitors your number of strokes and keeps track of the calories you have burnt, as well as your distance and speed, then we can recommend the V-fit Tornado Air Rower. It has great reviews and it folds away for easy storage:
Read more in our V-fit Tornado Air Rower review.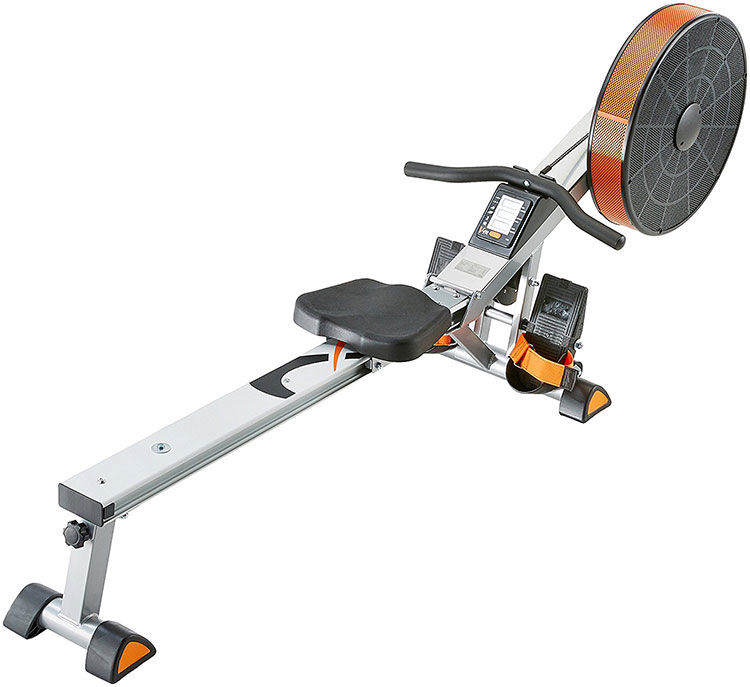 ---
Best Magnetic Rowing Machine
If peace and quiet are important to you when you exercise, then check out this Marcy RM413 Magnetic Foldable Machine. It has a solid steel frame, an easy to use LCD display and at under £200, it's a great value choice for those just starting out. Making it the best rowing machine in this category.
Read more in our Marcy RM413 Magnetic Foldable Machine review.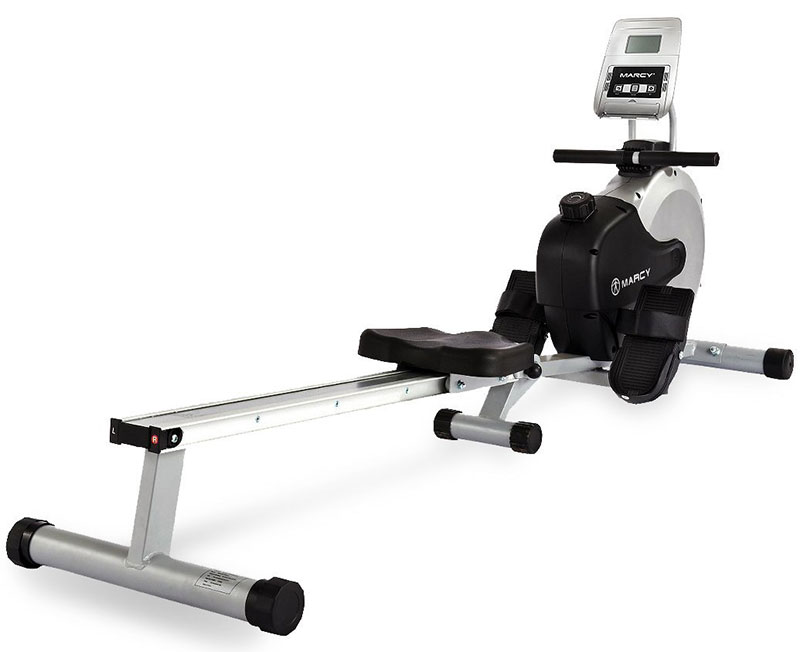 ---
Best Home Rowing Machine
If you are sharing your rowing machine, then it's a good idea to look for one that has lots of scope for adjustability.
The more versatile your machine is the better, the Body Sculpture Rower and Gym comes with the added bonus that you can also use it as a miniature gym. Allowing you to tone up your arms, chest and shoulders as well as row. We feel that these features make this the best rowing machine in the home rower category.
Read more in our Body Sculpture Rower and Gym review.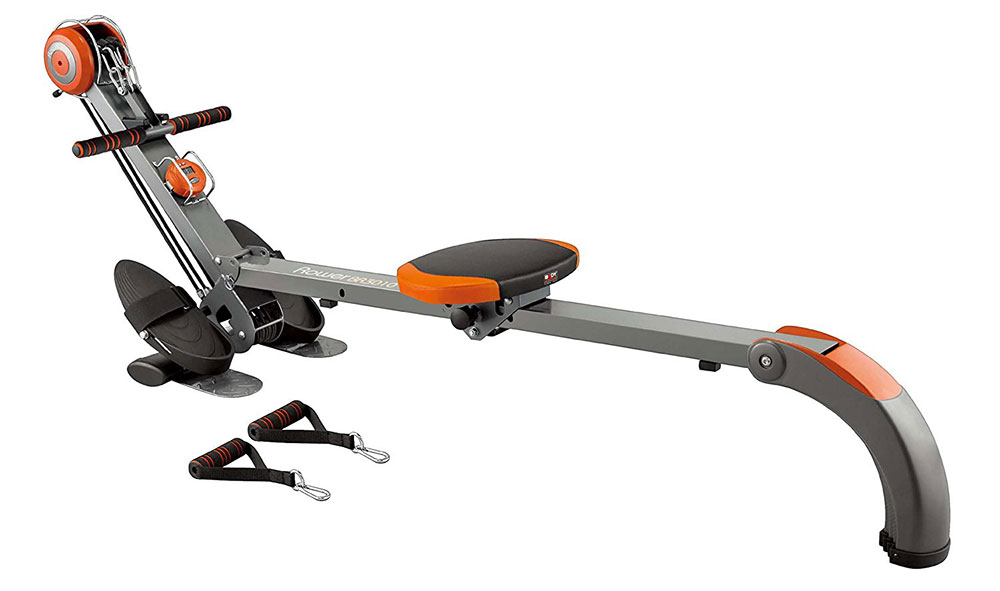 ---
Tips to help you choose the right machine
There are a few things you should consider before picking out a machine. Here are some tips to help you decide which is the best rowing machine for you.
1. Take your height and weight into account.
There's nothing worse than getting your brand new rowing machine fully assembled only to find that it isn't suitable for your weight or height.
If you're very tall or are lucky enough to have long legs, you should check that the length of the slide bar is suitable. You may find that on some machines, the slide bar is not long enough for you to stretch out your legs completely.
Not all rowing machines are made equal. You need to make sure that your machine can carry your weight, you can usually find this information easily by checking the product description.
2. Decide how important comfort is to you.
A lot of the lower priced models have basic seats and non cushioned handles. Some people are fine with this, but others can be really put off by a lack of comfort. As a general rule, the higher up in the price you go, the more comfortable the seat.
As we've already discussed, you can always use a cushion or some padded gym trousers to make your rowing experience more comfortable when using a cheaper model.
3. Think about the noise level.
Do you live in an apartment or a terraced house? Do you row during the early hours in the morning or late at night? If so, then you might want to consider the amount of noise your rowing machine will produce before you make your purchase.
4. Consider size and storage.
How much space do you have? What are the measurements of the rowing machine? Making sure that your chosen machine will fit into the space where you want to use it will save you stress and headaches.
There are lots of options when it comes to storage. There are folding machines and rowers that come apart, and machines like the water rowers that are designed to be kept on display.
Do you need a rowing machine that will store away easily, do you need one that's light with wheels and easy to move around? These are all great questions to ask yourself before you buy.
---
What is the best type of rowing machine?
There are four main types of rowing machine. Water Rowers, Air Rowers, Magnetic and Hydraulic. Let's take a look at each of the four types in a little more detail and help you decide which is the best rowing machine type that meets your requirements.
Water Rowers
These are among the best and most current rowing machines on the market. Water rowing machines are specifically designed to closely mimic the experience of rowing on water.
They are fitted with water tanks and are therefore much quieter than fan powered rowing machines. This is a major plus for a lot of buyers. In fact, many people really enjoy the noise created by water rowing machines.
Water rowers allow you to do high-intensity workouts with minimal strain. Their ergonomic design makes them a great choice if you work out a lot, or If you are recovering from injuries.
There is no need to adjust the resistance with water rowers. The resistance is natural and automatic. The harder you pull, the more resistance you will feel.
This makes water rowers incredibly versatile and they are therefore suitable for anyone from a novice to an Olympic rower.
Air rowing machines
Most people are familiar with air rowing machines. Air rowing machines have a fan which turns as you pull, creating wind resistance. The harder you pull, the faster the fan rotates and the greater the resistance.
Air machines operate more smoothly than hydraulic, but less smoothly than water rowing machines. A good tip is to look for one with a big fan, the bigger the flywheel, the smoother the resistance.
Although you can get air rowing machines that have a computer fitted, those in the lower price range usually only come with a basic LCD screen. This is fine if you just want to monitor your heart rate, keep track of calories or the number of strokes you have done.
However, if you want to set specific programs (in order to monitor your heart rate and keep it in a specific zone for example) you will need to spend a little bit more to get a machine with this feature.
Magnetic rowing machines
Magnetic rowing machines are sometimes referred to as resistance rowing machines. Rather than using wind or water, as the name suggests, they instead use magnets to create the resistance.
Magnetic rowing machines allow you to easily adjust the level of resistance. They often have as few as 8 or as many as 32 separate settings for adjusting resistance levels.
On some machines, you control the resistance manually, by turning a dial for example. While others are automatic, which means that they are controlled by an onboard computer.
Machines with automatic controls usually have a choice of programs (fat burning, heart rate control etc) that increase and decrease the resistance to help you meet your goals.
You can have a high level of control over your workouts with a magnetic machine. It's easy to get a sense of achievement by working your way up through the levels.
Unlike air and water rowers, with magnetic machines, there is no friction. Magnetic rowing machines, therefore, produce very little sound and are very smooth to use. So if you live in an apartment this is probably the best rowing machine type for you.
Hydraulic Rowing machines.
The main benefit of hydraulic machines is their low cost.
Hydraulic rowing machines use a compressed air system to generate resistance. They tend to be fairly cheap, and they differ from magnetic, water, and air machines because you cannot pull them in a straight line.
The exercise position that you need to adapt to use a hydraulic machine can feel a little unnatural at first.
It can be difficult to synchronise your arm and leg movements when using a hydraulic machine, so be aware that you may need to give yourself time to get used to this, especially if you've been using fan machines at the gym.
With a little patience and practice, a hydraulic rowing machine can be a great investment.
---
Frequently Asked Questions
What are the benefits of using a rowing machine?
Having an indoor rowing machine is great for those cold winter mornings when you can find it hard to get up and go to the gym.
Working out at home is much more convenient and many people find that they are more likely to work out if they have the equipment at home.
Some people prefer the privacy of working out in their own home. Working out at home also allows you to watch the TV, which is a good way to take your mind off the exercise you are doing and can help you to row for longer.
Rowing strengthens and conditions your whole body. Using a rowing machine allows you to work almost all of the major muscle groups in both the upper and lower body. It also allows you to exercise with little to no impact.
Non-commercial rowing machines are extremely versatile and easy to use. Any healthy adult can use a home rowing machine, regardless of age, weight or strength.
Which muscle groups does rowing target?
Rowing works your quads, hamstrings, calves and glutes the hardest, however, when you're rowing, you'll also be working on the major muscles of your upper body. So, you should also see development in your obliques, abs, lats, biceps, triceps, upper back and deltoids and pecs.
Rowing can also help to strengthen your hands and wrists.
Perhaps the most important muscle that rowing targets is your heart. You get a great aerobic workout on a rowing machine. Rowing is an extremely beneficial cardiovascular activity that's great for weight loss and for keeping your heart healthy.
A rowing machine also works your core, which means that it is great for shifting the weight from your midsection and toning up your abs.
How many Calories does a rowing machine burn?
According to the smart folks at Harvard University, depending on your weight, you can burn anywhere between 210 and 311 calories by rowing for 30 minutes at a moderate pace.
If you row more vigorously, in the same amount of time (30 mins) you can burn between 255 and 377 calories.
Can I lose weight with a rowing machine?
Rowing is a great way to lose weight for everyone. Unlike other exercise equipment like treadmills, stairmasters and bikes, using a rowing machine allows you to lose weight while simultaneously toning up your body.
Because it is a low impact form of exercise, rowing is also especially good for those who are very overweight or recovering from injuries.
A lot of older people also find that rowing suits them very well as a weight loss strategy.
Rowing provides a full body cardiovascular workout which will help you shed the pounds. For best results choose a rowing machine with a heart rate monitor or a fat burning program.
Which is better, a treadmill or rowing machine?
There are a lot of benefits that apply equally to a treadmill and a rowing machine. Both machines strengthen your heart and lungs, can improve your mood and stress levels, help increase your energy levels and promote healthy sleep patterns.
Treadmills and rowing machines are also both good for weight loss.
The main difference between rowing machines and other cardiovascular equipment like treadmills, cross trainers and stair climbers, is that rowing machines work the upper body and the lower body simultaneously.
A rowing machine workout typically consists of 65 to 75% Lower body (or leg) work and 25 to 35% upper body work. The action of rowing works your legs, your arms and your core. Rowing targets almost every muscle group in your body and because of that you can burn a lot of calories.
Rowing machines allow you to work on strength as well as cardio. If you want to work on your upper body, strengthen your core and get a more balanced workout, then a rowing machine is going to be a better choice for you.
A treadmill is great for people who want to focus more on their lower body and overall aerobic fitness. If you love to run or walk, and you aren't concerned about working your core and arms, then a treadmill could be your ideal fitness machine.
Another important thing to consider when deciding between a rowing machine and a treadmill is the impact. Rowing machines allow you to avoid impact, treadmills do not. Jogging outdoors or on a treadmill can cause orthopaedic impact which can lead to joint pain (particularly in the knees) and arthritis.
A key benefit of rowing, when compared to a treadmill, is that rowing allows you to build muscle at the same time as losing weight.
Rowing machines offer a more complete and balanced workout with little to no impact. If you only have space or the budget for one machine, I would recommend a rowing machine. Rowers work more areas of the body, so you get a more comprehensive workout for a similar level of investment.
---
A few tips for good technique.
Here are a few tips to get you started on the right foot when it comes to good technique:
Don't over rely on your arms.
Beginners tend to use too much arm strength, If you're rowing correctly, most of the power should be coming from your legs. Proper rowing should be 60% leg work, 20% core  and 20% arms.
Keep your shoulders back and your back straight throughout the whole stroke. If you have a hunched or rounded back then you are not properly engaging your core and the exercise will not be as effective.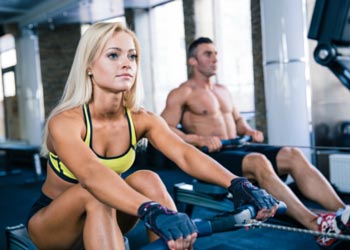 Try to establish a good steady rhythm that makes you feel comfortable.
Well, there you have it. I hope that you have found the information in this article useful and that you now feel much more confident about choosing the best rowing machine for you.
I wish you the very best of luck on your fitness journey.
Happy rowing!