Looking for a rowing machine and don't know where to start? This guide will help point you in the right direction.
Don't spend a fortune on a machine that ends up collecting dust. Spend some time finding the right machine for your budget and fitness goals.
Having reviewed over 100 models, we've chosen the best rowing machines for a variety of budgets and users.
Looking for a compact rowing machine? Check out our best folding rowing machine list.
Our Top 5 Rowing Machine Picks
We've had the pleasure of reviewing rowing machines from the top brands in the industry, but some models offer features that stand out from the competition.
Here are our top picks for the best rowing machines of 2018:
1. Concept 2 Model D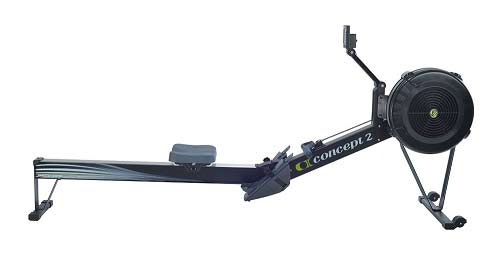 The Concept 2 Model D is the top rowing machine on our list and most would agree that this is the best rowing machine on the market.
Precision rowing and an advanced monitoring system makes the Model D superior to the competition. This model's 5-year warranty protects against defects, and the unit's adjustable features allows for a comfortable rowing experience.
Key Features:
PM5 monitoring system
Low profile design
Easy storage options
Ergonomic design and adjustable footrests
227 kg maximum user weight
When you sit on the Model D, you'll be able to adjust the footrests to match your foot size, and the ergonomic handle with a 10-degree bend offers a natural, comfortable rowing experience.
Storage and mobility are simple thanks to the folding design and caster wheels that offer easy transport.
A flywheel damper allows you to be in full control while adding resistance as you progress. The PM5, the most advanced monitoring system on the market, offers a backlit display, USB and Bluetooth connectivity, and workout metrics: speed, calories, pace and distance.
However the Concept 2 doesn't come cheap, so if you are looking for a budget rower then this one may not be for you.
Read our detailed review of the Concept 2 Model D
Or
---
2. WaterRower
If the Concept 2 is used by champions, the WaterRower forges champions. This high-end rower offers a true-to-life rowing experience, and it utilizes water to provide a rowing experience that simulates rowing on a lake.
Users of up to 350 kg can use this model, and it comes equipped with an S4 monitor, heart rate monitoring and a five-year warranty.
Key Features:
Natural water resistance
350 kg maximum user weight
Folding design for easy storage
Advanced monitoring with heart rate
Water resistance is provided through the large water reservoir, which swooshes with each stroke. Rowing faster and harder provides added resistance so that users can grow and advance their fitness levels.
Handcrafted to perfection with Ashwood, this model is backed by a 5-year warranty and has guide wheels for easy transport.
The WaterRower's monitor displays: distance, intensity, watts, calories per hour, strokes per minute and total strokes. A heart rate strap allows for heart rate monitoring, and the foot height is adjustable for added comfort.
When you're finished, simply stand the unit upright and place it against the wall.
Read our detailed review of the WaterRower
Or
---
3. JTX Freedom Air Rower
JTX Fitness' Freedom Air rower is a robust air rowing machine that offers gym quality at an affordable price. Offered in silver or black, air and electromagnetic resistance offers a smooth workout.
Key Features:
16 resistance levels
8 training programs
Maximum weight of 130 kg (20 stones)
Folding design
Advanced monitoring
Reinforced aluminum allows the unit to be sturdy yet lightweight. A 2-year in-home repair warranty offers peace of mind to buyers, and the unit's small footprint is ideal for smaller homes or flats. Users can fold the unit up and place it against the wall when it's not in use to save space.
The backlit monitoring system tracks: speed, stroke, distance, time, revolutions, heart rate and more. If you're new to rowing, you can start your routine at a low resistance level or work through one of the easier training programs to enhance your fitness level.
This is a great, affordable rowing machine for users of all fitness levels.
Read our detailed review of the JTX Freedom Air Rower
Or
---
4. Marcy Regatta
The Marcy RM413 is our top rated magnetic rower while also being folable, affordable and durable. The unit offers a 4kg flywheel and eight magnetic resistance levels controlled via the tension dial in the middle of the unit.
Key Features:
8 magnetic resistance levels
1-year warranty
110 kg (17.3) maximum user weight
Quick fold design
Swivel petals
On-board monitor
A large ergonomic seat allows for added comfort, while the swivel pedals with security straps keep the user's feet in place during use. The foam handle with included strap are comfortable even after hours of use, and the resistance levels go from easy to intermediate.
The frame is made from solid steel, and the seat rail is made of aluminum.
The deep dive console allows users to track: time, count, calories, distance and strokes per minute. The monitor requires batteries to operate, and the unit comes with batteries for your convenience.
Read our detailed review of the Marcy Regatta RM413.
Or
---
5. York R700 Rowing Machine
York's R700 is a platinum rower that offers magnetic and air resistance. The unit's minimalistic design allows for a lightweight, compact machine that still offers the industry's best features.
Key Features:
8 resistance levels
Onboard monitor
Adjustable footplates, handles and padded seat
Maximum user weight of 110 kg
Folds upright for compact storage
The monitoring system is impressive, and displays the metrics you need to lose weight and stay fit: time per 500m, distance, strokes per minute and calories. A center dial allows for resistance adjustments, and the footrests pivot and adjust to fit each user with precision.
The handle height is also adjustable to allow for a comfortable, natural feel.
Smooth and quiet, this model is designed to offer a robust cardiovascular workout. With an affordable price and folding design, the R700 can fit into any budget and into most homes with ease.
Read our detailed review of the York R700 Rowing Machine
Or
---
Best Folding Rowing Machine
Many people are looking for a compact rowing machine that they can move and store easily, so here is a list of our best folding rowing machines:
---
Buyers Guide – Finding the Best Rowing Machine for you
You've decided to buy a home rowing machine. Congratulations! You've just taken a major step in improving your health and fitness level. Now comes the most difficult part: finding the best rowing machine for you. If you've never owned a rower, you may not know exactly what to look for. This guide will give you some insight into which features are most important, so you can choose a rowing machine that will help you achieve your fitness and weight loss goals.
Resistance Type
One of the first and most important things you need to consider is resistance type. There are four main types to choose from: air, water, hydraulic and magnetic. Each resistance type comes with its own set of advantages and disadvantages.
Our rowing machine reviews have also been split up into different resistance types, enabling you to see all the machines available for that particular type.
Air
Air rowing machines are one of the more common types, and they generate resistance through a flywheel. Some machines allow you to adjust the resistance level using a notch on the side of the wheel. Aside from this adjustment (if available), your rowing pace will generate resistance.
With an air-based machine, the harder and faster you row, the higher the resistance will be. Because workouts intensify as your effort intensifies, air rowers ensure that you maintain a higher level of expended effort.
Perhaps the only drawback to an air rowing machine is that it produces noise as the wheel turns. That being said, the flywheel also produces a nice breeze as you exercise.
Water
A water rowing machine is designed to mimic the experience of real rowing, and are intended for serious users. Most of the high end rowers on the market use water resistance.
As you may have guessed, these rower machines use water to generate resistance. They come equipped with large water-filled tanks that create resistance as you row.
Like the air rowing machine, the harder and faster you row, the greater the resistance will be. Each time you row, the paddles in the water tank revolve. The moving water drags against the paddles to create resistance.
A water rowing machine tends to be quieter than air rowers, although you can still hear the sound of the water moving in the tank. Many users find the "whooshing" sound of the water in the tank to be relaxing and soothing.
These rowers require little maintenance, but because the tank needs to be filled with water, they can be very heavy and larger than most other rowers.
Hydraulic
Hydraulic rowers are inexpensive, smaller in size, and quieter than other rower types. If you are short of space and would like an easily portable rowing machine, then a hyrdraulic system may be the right one for you as they tend to be compact and easy to move. That being said, they're not the best choice for intermediate or advanced users.
To generate resistance, hydraulic machines use pistons. You won't get the same smooth rowing feel that you would get with an air or water rower, but it will offer a challenge that will help you improve your fitness level. Therefore if you are looking for a cheap rowing machine to have at home then this type may be the one for you.
Magnetic
One of the most popular resistance types for home users, is magnetic. One of its major benefits is that it's very quiet, but its compact design is also a crowd-pleaser.
These machines use magnets and a flywheel to adjust the resistance levels. You can increase or decrease the resistance either by adjusting a slider or through a digital console.
Unlike hydraulic rowers, a magnetic rowing machine is capable of providing that smooth rowing feel that users are looking for.
If you are looking for a folding rowing machine, then chances are it will be a magnetic rower, as the compact design allows for easy storage and makes it a great choice for people with smaller homes or flats. One of the top selling magnetic rowing machines on the market is the York R700, therefore have a look if you are interested in a magnetic rower.
Display
If you are a first time buyer/user we recommend getting a machine that has a basic display. It may seem trivial, but a digital display will allow you to track your workouts and progress.
Most machines will come with a built-in display – even the cheap models. Look for machines that will tell you:
Calories burned
Workout time
Strokes per minute
Distance
Heart rate
These are just the basic stats that you want to be able to track. Advanced displays may offer other stats as well. The Concept 2 Model d's display, for example, allows you to race against a targeted pace to help you reach your goals and is considered the best rowing machine available on the market.
While advanced features aren't necessary, you do want to ensure that you can at least track the basic stats listed above.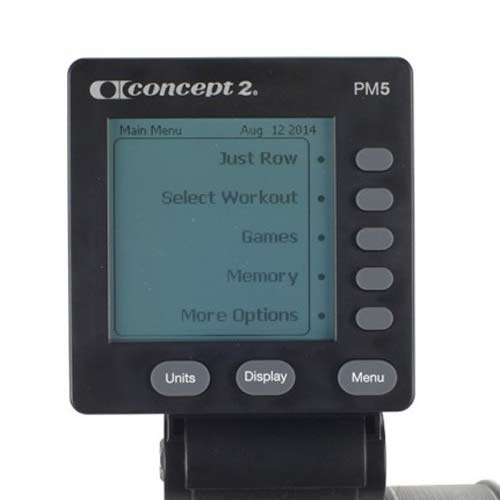 Folding
If space is a concern, a large water rower may not be the best option as these models typically are quite heavy and bulky so make sure you know the dimensions of your storage space before you buy.
Magnetic, hydraulic and some air rowers will offer a foldable design that allows you to save space. Most also feature wheels that allow you to easily move the rower to the corner of a room or a closet when it's not in use.
All of our reviews will indicate whether the machine is foldable.
Seat Rail Length & Weight Capacity
Seat rail length is a concern for taller users. Before buying any rower, be sure to look at the length of the seat rail to make sure it's long enough for you or anyone else who will use the rower.
Weight capacity is also important. The rower you choose should be able to easily accommodate your weight and any other person who may use it. Hydraulic rowers may not have as high of a weight capacity as an air or water rower, so keep that in mind when choosing a model.
Heart Rate Monitor Compatibility
Most people overlook the importance of being able to use a heart rate monitor during a workout. Your heart rate is a good indication of how intense (or easy) your workout is. If you're trying to improve your fitness level and burn extra calories, you'll want to make sure that you hit your target heart rate and stay there.
Most machines come with built-in pulse monitoring, but if the machine you're looking at doesn't, check to see if it's compatible with a separate ones.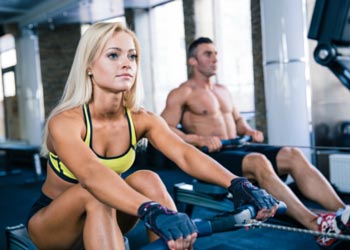 Built-In Workouts
Not sure what a rowing machine workout really consists of? Well, some models have built-in workouts which will help to take the stress out of your workout. Depending on your personal goals, this may or may not be important to you.
Built-in workout programs offer the benefit of varying your workouts and providing you with a challenging rowing session. Some machines offer dozens of built-in workouts for all fitness levels, while others offer just a few. If you're looking for a well-balanced workout, consider a machine that offers built-in programs.
Warranty
One of the final things you need to consider is the rower's warranty. The vast majority of rowers will come with some type of warranty, but models that offer five-year or longer warranties are a smart choice.
While a warranty will not affect the performance of the rower, it will give you peace of mind in knowing that your investment is protected if something should break or malfunction.
These are the primary things to be on the lookout for when buying a rowing machine. Resistance type will likely be the deciding factor in which type of rower you choose, but be sure to keep all of the other points in mind.
Save
Save
Save
Save
Save