Smooth rowing, manual resistance levels and a foldable design are what the Marcy RM413 has to offer. When we first saw this rower, we were a little skeptical. It's lightweight and simple in design. But oftentimes, simplicity is surprisingly effective and the better option. We were impressed with this budget rowing machine, and it boasts a number of excellent features.
Marcy RM413 Features
4kg flywheel
8 manual magnetic resistance levels
Aluminum seat rail
Transport wheels
LCD computer
Foldable design
Max user weight: 110kg
Marcy RM413 Review
The RM413 is a magnetic rowing machine. One of the main advantages of magnetic machines is that they're quiet and offer a smooth rowing experience. The RM413 is no exception. When compared to air or water machines, which can be noisy and rough, this rower was a pleasure to use. The RM413 is near silent, and rowing is as smooth as can be.
Resistance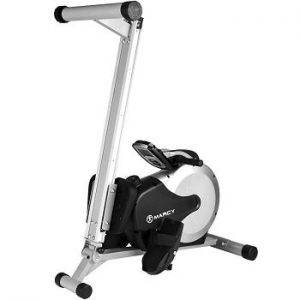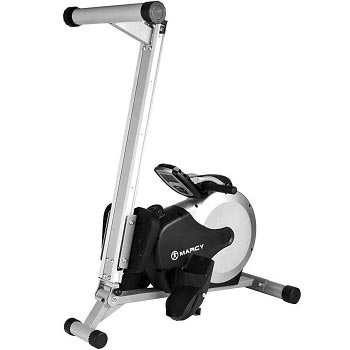 With a 4kg flywheel and 8 levels of manual resistance, you can easily adjust the intensity of your workout. The resistance dial is conveniently located just beneath the handle for easy access in between rows. The only issue we had with the resistance is that it's not quite as challenging as we had hoped. Even the highest level may be too easy for advanced users.
Computer
Like other rowers in its class, the RM413 comes with an LCD computer that displays: distance, time, speed, strokes per minute, and stroke count. The computer feedback allows you to track your progress, so you can achieve your fitness goals.
As far as comfort is concerned, this rower is better than most. The ergonomic, foam seat pad is contoured to maximise comfort. The pivoting pedals feature quick-adjusting Velcro straps and can accommodate most foot sizes. The foam handle is easy and comfortable to grip. A durable strap is included as well.
The RM413 is lightweight at just 26.5kg, and boasts a sturdy aluminum seat rail. The rower's foldable design allows you to store it away in a corner or closet when not in use. A quick-release pin makes it easy to fold up the rower. Transportation wheels are included, too, so you can easily transport the RM413 wherever you please.
Even when the machine is unfolded, its footprint is relatively compact at 183cm x 56cm x 78cm. Folded, the RM413 shrinks to 93cm x 56cm x 150cm. Its space-saving design makes this rower an excellent choice for those living in smaller homes and flats.
Pros
Smooth rowing
Quiet
Easy to use
Multiple resistance levels
Lightweight
Folds up for easy storage
Wheels make it easy to transport
LCD computer displays important feedback
Can accommodate users up to 110kg, or 17 stone
Cons
Resistance levels are a tad disappointing
As mentioned previously, the machine's 8 resistance levels are great for beginners and even intermediate users. However, advanced rowers may find that even the highest level is too easy. At most, this machine will give experienced users a light cardio workout.
That said, the RM413 is a superb choice for those who are new to fitness and intermediate users. Its space-saving design and affordable price make it a smart choice for anyone with a limited budget and space.
Related Posts:
Rowing Machine Reviews Overview
Skandika Regatta Oxford Pro SF-1170 Rowing Machine Review
Save