The Concept 2 Model D is an advanced rower that is loved by users all across the world. It comes with the advanced PM5 monitor that allows for accurate and precise session monitoring, while providing air resistance with the flywheel and damper.
This is a serious machine that is used by Olympians during training.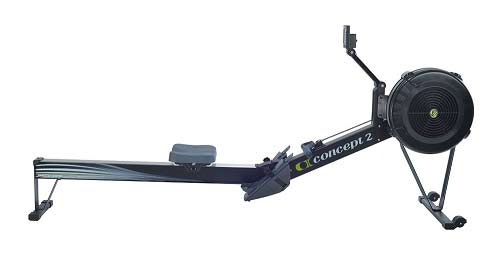 Features
This is arguably the most popular rowing machine on the planet. It is a staple in most rowing schools and is used by the top athletes in the world when they can't go out on the water and actually row. You can also find this model at most commercial gyms, mainly due to it's ease of use, build quality and the fact it is suitable for new and advanced users alike.
Everything is adjustable and designed to suit you. The footrests are adjustable and allow for easy sizing while accommodating wide foot sizes. The handle features a 10 degree bend that provides just the right ergonomic grip meant for rigorous rowing sessions.
Variable Resistance
The flywheel responds to your effort. What does this mean? The harder you row, the more resistance that will be felt. There is also a spiral damper that allows you to set your own resistance levels to ensure that you're getting the best possible workout.
Comfort is also top-notch, with users being able to row for hours.
When it comes to exercise equipment, not enough emphasis is put on performance monitoring. However with the PM5 on board you have one of the most advanced monitors on the market at your disposal. This monitor allows you to track:
Distance
Speed
Calories
Watts
Pace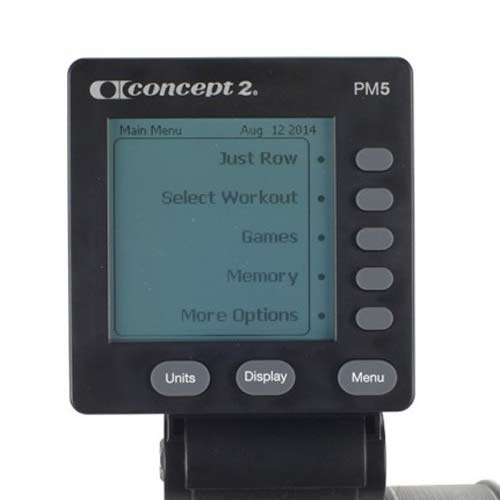 This is all pretty standard. Right? Well, the PM5 goes a step further and allows for 5 display options:
All data
Bar chart
Large print
Force curve
Paceboat/pacer
This information is what will allow you to adjust your workouts to really see results. Having a bar chart in front of you or a pacer will ensure that you remain consistent with your rowing at all times.
For anyone really trying to push their limits, this machine can definitely get you there.
There is also wireless heart monitor capability that uses Bluetooth to connect to a heart monitoring system. Users of the iPhone or Android will be able to connect with a free app that provides additional feedback and workout storage right on your phone or mobile device.
When you're done rowing, it has a quick-release mechanism that requires no tools to engage. This allows you to separate the machine into two different pieces and store it with ease. There are also caster wheels that will allow you to transport the machine without any heavy lifting involved.
Pros
Advanced monitoring with the PM5
Exceptional resistance
Smooth rowing experience
Comfortable
Long-lasting
Cons
This is not a low-end model, so it will be a little more expensive than other models meant for beginners. Unfortunately, this is out of the price range for a lot of people trying to get or remain fit.
But, this is a machine that is unmatched in terms of longevity, quality and monitoring.
You truly get what you pay for, and the this is a prime example of a top-of-the-line machine that would be seen in homes of professional athletes and fitness enthusiasts around the world.