The York R700 offers a combination of air and magnetic resistance for a smooth pull and a challenging workout. With comfortable padded seating and a compact design, this is one of the best rowing machines on the market for anyone who is short on space, but looking for a quality workout at home. In this detailed review, we'll take a look at how it performs and how it compares to others.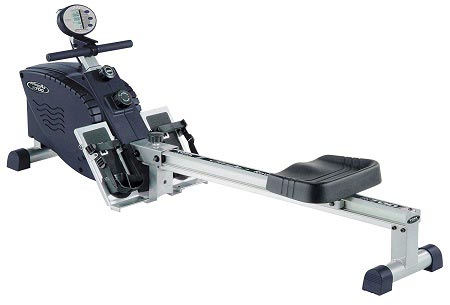 Features at a Glance
8 resistance levels
Uses a combination of magnetic and air resistance
Pivoting, heavy-duty footplates
Compact design with retractable seat
Adjustable handles
Digital center console that displays total strokes, time/500m, strokes per minute and calories
Supports users up to 100kg
It uses a combination of air and magnetic resistance, which allows for smooth rowing and challenging resistance. The machine comes with eight resistance levels, so you can increase the intensity of your workouts. Resistance can easily be adjusted using the knob below the digital console.
The center digital console lets you track your stats during each workout, including the number of total strokes, strokes per minute, distance, time/500m and calories. This particular unit can accommodate users up to 110kg.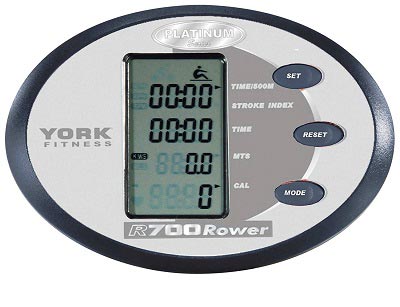 The seat track is made of aluminum, which helps make rowing feel even smoother. The handle height is adjustable, too, so tall users can easily enjoy a comfortable workout.
Speaking of comfort, the footplates are pivoting and feature adjustable Velcro straps. It is durable and well-made, so you're sure to get years of use out of it.
One thing that surprised us was how quiet this model was. Machines that use full air resistance tend to be noisy, so we assumed a magnetic/air resistance would be a little noisy, too. Therefore we were pleasantly surprised that we could easily hear ourselves think while we were rowing.
One feature that really caught our eye was the retractable seat. If you're short on space or just prefer not to keep it out at all times, you can retract the seat and stand the machine up on its side. In an upright position, this takes up very little space. That being said, there aren't any wheels on this model, so it's not particularly easy to move around.
Pros
Multiple (8) resistance levels for challenging workouts.
Improves cardiovascular fitness while strengthening and toning the legs and core.
Solid construction.
Digital console allows you to keep track of your workouts.
Comfortable footrests and adjustable handle for a personalized workout.
Retractable seat allows it to fold up for easy storage.
Combination of air and magnetic resistance allows for smooth rowing.
Quiet while in use.
Cons
No built-in workout programmes
The only gripe we had with it – and it's a minor one – was its lack of built-in workout programmes. York doesn't claim to offer built-in workouts with this machine, but we would have liked to see this feature, particularly with the price tag.
All in all, this is an excellent machine, made by one of the most well-known brands in the fitness industry: York. Moderately priced, comfortable, and challenging, this is a product that can benefit users of all fitness levels.