This is an air magnetic rower with dozens of built-in workout programs, multiple resistance levels and a folding design for easy storage. Built to last, this is a machine that can give anyone – beginner to expert – a fantastic workout. If you're looking for equipment that can be used by the whole family and progress with you as you increase your fitness level, this may just be the perfect rowing machine for you.
Features
Auto-controlled air magnetic resistance (16 levels)
42 built-in workout programs (including 1 race and 4 pulse-controlled)
Full stroke
Data storage for up to 5 people
Folds for easy storage
Max weight: 150kg
A couple of things that make this model stand out are the resistance controls and the built-in workouts. But its other features shouldn't be overlooked either.
Automatic Resistance Control
The air magnetic resistance system is auto-controlled by the machine's computer, which means resistance levels adjust automatically throughout the course of your workout. In other words you won't have to stop your workout just to adjust resistance. Workouts are smooth and seamless – just as like if you were out on the water.
Built-In Workout Programs
The computer features a whopping 42 built-in programs. Among the myriad of programs is one race program and four pulse-controlled programs. No matter your fitness level or experience, you're sure to find a program that suits your skill level and goals.
Full Stroke Rowing
When put together, the machine has a rather large footprint of 237cm x 50cm x 91cm. Its generous length allows for full stroke rowing, which makes this an excellent machine for tall users.
No matter your height, you're sure to get the most out of your workout.
Ergonomic Design & HR Monitoring
It's clear that a lot of thought was put into the design of this product. With ergonomically-designed handles, your workouts are more comfortable, and rowing is smooth and seamless.
We've seen our fair share of handles that are uncomfortable and painful to use, but this handle felt like it was designed just for our hands.
We also like that heart rate monitoring is available, so you can keep track of your pace and the intensity of your workouts.
The great thing about the pulse monitoring feature is that the machine will automatically adjust its resistance levels to make sure that you hit and maintain your target heart rate.
If you're trying to burn the most calories and maximize each workout, this feature (in our opinion) is invaluable.
Data Storage for 5 Users
When you invest in a piece of workout equipment, you hope that everyone in the family can use it. The trouble is that most machines won't store data for multiple users. In fact, most don't store data at all.
It can store information for up to five users, so everyone can use this and track their progress with ease.
Quiet and Durable
Some models can be noisy – especially ones that use air resistance. The combination of magnetic and air resistance keeps this machine quieter than most on the market.
We thought it was near-silent during our review, and the little noise we did hear was surprisingly soothing.
Although this machine is quiet, it's still rugged enough to accommodate users up to 150kg. With a strong, durable frame, you're sure to get many years of use out of this unit.
Foldable Design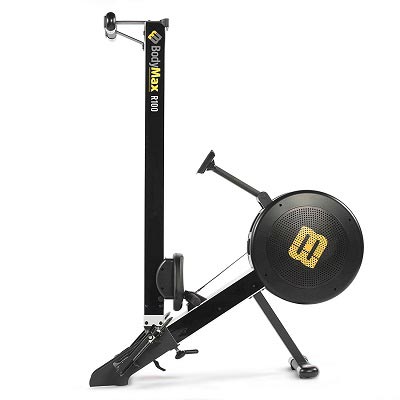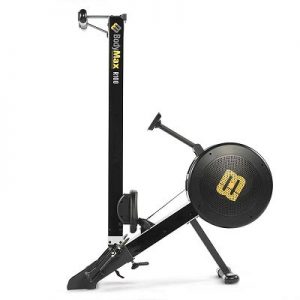 Being short on space doesn't have to mean that you're short on options, too. This machine folds up for easy storage when not in use. This means that even those with limited space can enjoy all of the benefits this product has to offer.
Optional Extras
It also offers a few optional extras, like the Infiniti Heart Rate Transmitter. This transmitter sends heart rate information wirelessly to the machine's computer.
We did want to note in order to use the heart rate control programs, you'll need to buy this transmitter separately.
Pros
Automatic resistance control
42 workout programs to choose from
Durable, stable machine
16 resistance levels for challenging workouts
Full stroke rowing for tall users
Cons
Footrests come loose at times
While we did not experience this personally, there are some users who have had trouble with the footrests coming loose from time to time. Having to retighten the footrests can be an inconvenience, but certainly not a reason to avoid buying this machine.
This machine is quiet, smooth and allows you to enjoy a challenging workout. With full stroke rowing, an ergonomically designed handle and 42 built-in programs, it's great for users of all fitness levels.