Walking pads offer a convenient, practical way to stay active, even when you're short on space. Ideal for home workouts, walking pads have compact designs with motorised walking decks that keep you moving.
Speeds are slower in most cases, but they're still quick enough to get your heart pumping and keep you active.
After many hours of testing we believe that the Flow Fitness DTM100i Walking Pad is the best choice.
One of the main benefits of a walking pad is its folding design. You can use it underneath a desk, or slide it underneath the sofa in your living room. It's a versatile cardio machine that can help improve your fitness level without taking up too much space. However if you do have more space make sure to read our Best Treadmill Guide.
There are several walking pads on the market today, but some are better than others when it comes to quality and durability. Here are our top five picks for the best walking pads this year.
Top 5 Best Walking Pads in 2023
1. Flow Fitness DTM100i Walking Pad Review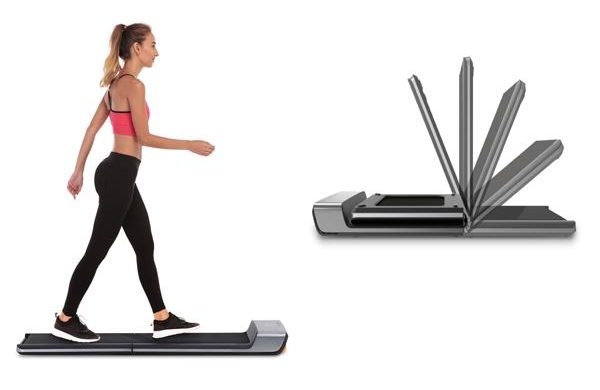 The DTM100i is a compact, lightweight walking pad that can help you stay active no matter how small your space. Designed with home users in mind, the DTM100i fits neatly under a desk, with a running deck of 120 x 41.5 cm.
The maximum speed of 6km/h is ideal for walking while working, and the 100KG weight limit accommodates most users with ease. There's an automatic programme that speeds up when you approach the walking deck and slows down when you get near the end.
The speed is controlled via a remote control for hands-free operation.
For more control options, the Bluetooth function allows you to connect the DTM100i to your device and use the free Walking Pad app. The app logs your performance and gives you a wide range of options to adjust your workout to your needs, like:
You can also view your workout data right from the app.
At the front of the walking pad is a clear display that tells you how much time has elapsed and your walking speed. Sound dampening makes this walking pad quiet during use.
When you're done with your workout, the DTM100i folds up and fits neatly under a bed, sofa or wherever is most convenient. When folded, this walking pad is just 82.5cm x 54.7cm 12.9cm.
Transport wheels make it easy to slide this walkingpad into its storage area.
The DTM100i comes nearly fully assembled, so it's easy to get started with your first workout.
Pros
Comes almost fully assembled
Compact size
Folds up for easy storage
Bluetooth connectivity and app control
Cons
The DTM100i is a bit heavier than expected, with a weight of 30kg. However, the transport wheels make it easier to move the unit wherever you want it to go.
This model was also a top pick for HGS in their best under desk treadmill guide.
2. CITYSPORTS Folding Motorised Walking Pad Review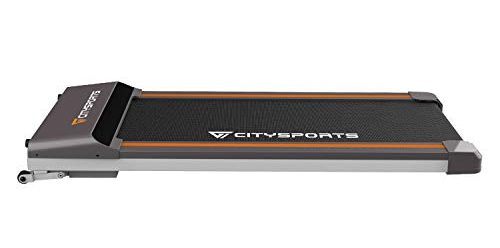 The CITYSPORTS motorised walking pad offers a portable, slim, folding design that's ideal for under-desk use and small flats. Just fold it up and store it away when you're not using it.
With a weight of just 26.2 kg, this walkingpad is lighter than most office exercise equipment. The walking pad itself has dimensions of 147 x 59 x 15 cm and requires a ground clearance of just 15 cm.
The unit can support up to 100kg.
A 500W motor is both strong and durable. Speeds of up to 6 km/h allow you to enjoy a brisk walk while working.
A built-in LED display shows your time, calories burned, speed and distance. You can adjust the speed using the included remote control. Noise dampening features allow you to exercise without disturbing others.
Pros
Lightweight and compact
Folding design
Slim profile for easy storage
Powerful motor
Remote control included
Cons
No Bluetooth connectivity option
The CITYSPORTS walking pad does not offer Bluetooth connectivity or app control. It's a basic walking pad without any special features or programmes, but it's a great option for anyone who wants a simple model.
3. Bluefin Fitness TASK 2.0 2-in-1 Folding Under Desk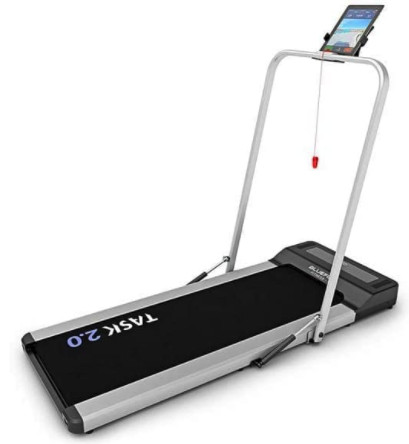 Bluefin's TASK 2.0 offers 2-in-1 functionality (treadmill and walking pad) and some advanced features to boost your workouts, including:
Multiple workout modes
8km/h maximum speed
Aero-dampening for smooth strides
Smartphone app connectivity
Bluetooth speakers
Wearable remote control
The built-in motor is quiet and efficient. A 5-layer anti-static track allows you to enjoy quiet workouts and provides both moisture resistance and traction. The digital fitness console allows you to track your calories burned, speed, distance and run time.
There are six in-built programmes and a safety key for immediate stop in an emergency.
The TASK 2.0 can connect to your smartphone and a free app. The Bluetooth speakers allow you to listen to music, and there's even a tablet holder to keep yourself entertained.
When you're done with your session, just fold up the unit and store it away. Transportation wheels allow you to easily slide this under a bed or into a corner.
Pros
Dual functionality
Built-in Bluetooth speakers
Tablet mount
Quiet operation
Wearable remote control
Cons
No maximum weight limit listed
The TASK 2.0 does not indicate a maximum weight limit. But overall, this is a versatile walking pad with some lovely extra features that will make your workouts more enjoyable.
Related: See the 7 best adjustable dumbbells here.
4. WalkingPad Kingsmith R1 Review
The Kingsmith R1 is a foldable walkingpad that offers faster speeds, quiet operation and multiple operation modes.
This model offers speeds of 0.5-10 km/h, allowing you to walk or run on this model. The Kingsmith R1 has both a control panel and a remote control.
The control panel/display allows you to adjust the training programmes, change modes and display your workout stats. The remote control also allows you to adjust the speed and switch between different modes.
There are two main modes: automatic and manual. In the manual mode, you can adjust the speed to your liking and also use other features, like decline, braking and start/stop. In automatic mode, the speed is automatically adjusted using the machine's intelligent algorithm.
The folding function makes it easy to store this unit away in between uses. Quiet operation allows you to exercise without disturbing others.
Pros
Walk or run, with speeds up to 10 km/h
Remote control function and control panel adjustments
Foldable design
Quiet operation
Cons
The remote control only works in manual mode
You cannot use the remote in automatic mode, and you also can't adjust the speed when you're in this mode. But if you want a model that gives you lots of options when it comes to modes and speeds (in manual mode), the Kingsmith R1 is a good choice.
5. CITYSPORTS Electric Walking Machine Review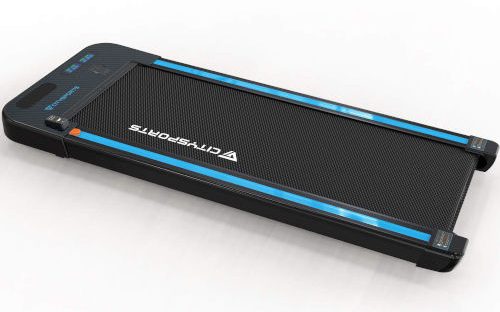 The CITYSPORTS Electric Walking Machine offers multiple speeds, remote control function and security features to make this model safer.
Speed ranges from 1-6 km/h, and you can adjust the speed using the included remote control. A digital display shows your speed, steps, distance, time and calories burned.
The in-built Bluetooth speakers allow you to listen to music during your workouts. There's also a child lock function to prevent accidental use and will be activated after start-up. It can only be unlocked with the remote control by pressing the speed button.
The Electric Walking Machine has a slim profile, shock absorption, non-slip track and quiet glide technology for virtually silent operation.
Pros
Built-in Bluetooth speakers are a nice perk
Remote control function
Child lock function
Quiet operation
Cons
Speaker quality isn't great
The CITYSPORT Electric Walking Machine offers a few excellent features, and while the Bluetooth speakers are nice, the quality of the audio isn't great. But otherwise, the durability and quality of this machine makes it great value for the money.
FAQs: Best Walking Pads
What's the Benefit of Walking?
Walking is an excellent way to stay active, and it provides many health benefits, including:
Better circulation
Osteoporosis prevention
Weight loss
Mood lift
Better sleep
Improved joint health
Reduced Alzheimer's risk
Improved stamina
Unlike running, walking is easier on the joints, and many people find it more enjoyable than running.
How Many Calories Can I Burn on a Walkingpad?
The number of calories you burn while on a walking pad will depend on your size and pace. The faster and more difficult the pace, the more calories you will burn because your body is working harder.
Walking pads have built-in consoles or apps that help you track your workout stats, so you can keep track of how many calories you burn during each session.
Although important, calories are just one piece of the puzzle. Consistency is just as important if your goal is to lose weight and improve your fitness level.
How Often Should I Use Walking Pads?
A walking pad can be used daily to keep your body active whilst working or as part of your exercise routine. At minimum, aim for three days a week and for at least 30 minutes at a time. Ideally, you should walk for at least 30 minutes a day.
Feel free to use your walking pad as often as you want. A brisk walk can be a great pick-me-up and help you feel more energized.
Related Posts: