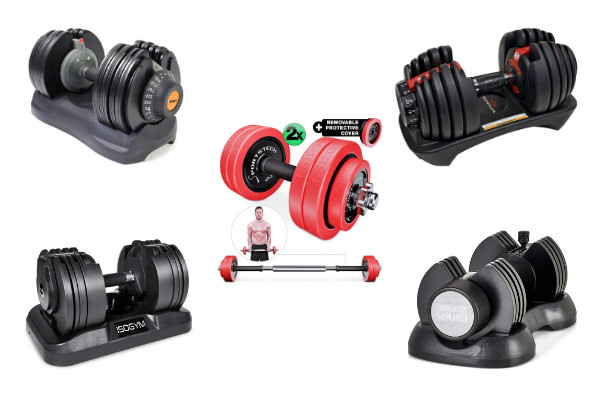 Are you looking to increase your strength training in 2023? Do you want to set a New Years resolution to get strong?
If so, a pair of adjustable dumbbells are an essential piece of equipment for helping you to reach your goals.
Dumbbells are a great way to build strength gradually and they can be used for a wide range of strength exercises.
Here are our top picks at a glance:
Model
Force USA DialTech 25kg Adjustable Dumbbell
MuscleSquad 12.5kg Adjustable Dumbbell
Bowflex SelectTech Adjustable Dumbbell System
Editor's Pick
Model
Force USA DialTech 25kg Adjustable Dumbbell
Preview
Model
MuscleSquad 12.5kg Adjustable Dumbbell
Best Value
Preview
Model
Bowflex SelectTech Adjustable Dumbbell System
They help to increase overall fitness and can be used for specific areas of the body including arms, legs, and torso too.
The great thing about adjustable dumbbells, as opposed to regular dumbbells, is that you can adjust their weight.
A set of adjustable dumbbells is going to provide you with excellent value for money over time and it's a great piece of fitness equipment to have.
7 Best Adjustable Dumbbells UK
Are you looking for recommendations for the best adjustable dumbbells to buy to keep at home? We've compiled a list of the best dumbbells in this category alongside comprehensive reviews of each.
You'll find a range of adjustable dumbbells to choose from, helping you to identify which ones are the best for your own needs.
Here are our top 7 picks:
1. Bowflex SelectTech Adjustable Dumbbell System
The Bowflex 552i Adjustable Dumbbell packs 15 weights into one compact design, perfect for your home gym.
Related: Best Home Rowing Machines UK
Only one dumbbell is included, but to adjust the weight of it all you have to do is turn the dial on either side to change your resistance from 2kg all the way up to 24kg.
The grip of the Bowflex dumbbell is textured and the dial mechanism is secure and reliable, ensuring safe exercise.
Compatible with the free Bowflex training app which is available on both iOS and Android, you can follow trainer led workouts, journal your progress and build custom exercise plans to suit your needs and wants.
With dimensions of just 40 x 20 x 23 cm, no longer will dumbbells, racks and the weight plates that come with them take up so much space when they're not being used.
The range of weights included are: 2, 3, 4, 5, 7, 8, 9, 10, 11, 14, 16, 18, 20, 23, 24 kg
Reviews for the product are exemplary, with 4.7 out of 5 stars on Amazon. Most customers highlight and preach the quality of the dumbbell, the ease of use and the space efficiency that it offers, however, do comment on the potentially "costly" one-off price.
Reviews suggest that these are some of the best dumbbells you can buy.
Pros
Combines 15 weights into one
Compact design
Cons
Only one dumbbell included
2. ISOGYM Adjustable Dumbbell 2kg-20kg Weight Set
The ISOGYM Adjustable Dumbbell contains 16 weight possibilities in one space-efficient, easy to use design.
Perfect for home workouts, just grab the textured handle, turn and lift. The dumbbell has a helpful display so you can easily identify the weight you're selecting in both lbs and kgs.
The inbuilt safety locking mechanism ensures that no matter the weight you choose, it will never fall off. Meaning you can have a safe workout with comfort and confidence in the equipment you're using.
From 2kg all the way up to 20kg, you'll no longer require additional weights and metal plates which take up a lot of space in your gym. It comes with a base station for storage so that you and your floors are protected from damage.
All you need is this comparatively small dumbbell set which comes in at just 24cm x 40cm to get great strength training workouts.
The range of weights include: 2.3, 3.8, 4.2, 5.3, 5.8, 6.8, 7.2, 8.4, 8.8, 10.3, 12.5, 14.5, 15.5, 17.5, 18.5 and 20kg
Reviews for the product sit at 4.3 out of 5 stars on Amazon. Customers appreciate the quality and ease of use of the switching mechanism along with the value of the product compared to alternatives.
Other purchasers have had issues with delivery, however, the company seem quick to fix any issues.
Pros
Wide range of weight options
Easy to use design
Cons
3. MuscleSquad 12.5kg Adjustable Dumbbell
The MuscleSquad Adjustable Dumbbell can be adjusted from 2.5kg to 12.5kg instantly and easily. With just a slide of the pin selector, you can change the weight and away you go.
The Amazon listing offers a pair of dumbbells so you're getting more for your money even if the weights are not as heavy as alternative options.
The locking mechanism of the pin selector ensures safe usage at all times with no risk of change whilst you exercise. Further, the handles are covered in high quality, textured, soft-grip which provide a comfortable, non-slip hold.
Great for home use, this adjustable dumbbell set saves room with its compact design – packing four dumbbells into one uncomplicated design – and money in offering you the opportunity to have a good workout without the need for lots of costly equipment or a gym membership.
Reviews sit at 4.8 out of 5 stars. Praise is heaped on the value of the dumbbells, the quality of the dumbbells and the excellent customer service.
There are no negative reviews from any customers as of yet, clearly, the product does what it says and it does it well.
Pros
Set of dumbbells
Built to last
Cons
Smaller weight range compared to alternatives
4. Sportstech 2in1 innovative Dumbbell & Barbell Set with Silicone Cover
The Sportstech 2in1 Dumbbell and Barbell set offers two types of fitness equipment for your home gym in one space-saving product.
The product can be used as two separate spin lock dumbbells or one barbell. This makes it extremely versatile and helpful for a multitude of exercises covering all parts of the body.
Two sets of gym equipment for one small cost is great value.
The dumbbell handles themselves are covered in an extra-thick, anti-slip foam that ensures your hands are comfortable whilst you go through your workout routine.
The included weight plates are safely secured using spin-locks which also come with the kit. To set up the barbell, simply use the included connecting rod by attaching the two dumbbell handles to each side and away you go.
The weights also come with removable silicone covers which stop the weight discs from scratching your floor, preventing any damage.
There are two options you can choose from, a 2x 10kg set or a 2x 15kg set.
The difference between the two options are as follows:
2x 10kg set contains 4 x 2.5 kg and 4 x 1.25 kg cast iron weight plates
2x 15kg set contains 8 x 2.5 kg and 4 x 1.25 kg cast iron weight plates
The reviews sit at 4.5 out of 5 stars on Amazon. Most customers were happy with their purchase and the quality of the product delivered as well as the ease of use of both the barbell and dumbbells.
However, issues have arisen regarding the materials which cover the weights and the handles of the dumbells. Some have found that the materials on both the handles and weights tear after only a month or two of use.
The company are quick to send replacements, however, keep this in mind.
Pros
Value for money in two sets of home gym gear in one
Ease of use
Cons
Weight plates can take up space
5. Athlyt Unisex's 32.5KG ADJ Adjustable Dumbbell
A twist of the dial on the side of Athlyt's adjustable dumbbell is all that's needed to change the weight.
The dial displays the weight in kg and the safety mechanism ensures full safety when you use it with no weight changes possible without your choice.
The textured, chrome-plated grip and black polished paint make the Athlyt Adjustable Dumbbell a well built, highly durable dumbbell for great workouts at home for a long time.
There is only one adjustable dumbbell and it comes with 13 different weight settings from 2.5kg up to 32.5kg.
The weight increments are as follows: 2.5, 5, 7.5, 10, 12.5, 15, 17.5, 20, 22.5, 25, 27.5, 3o, and 32.5kg
With the large weight scale of this dumbbell and the heavy maximum, there's no need for a full rack of dumbbells – you can replace 13 dumbbells with just this one product.
This dumbbell provides a great option for an excellent workout at home in minimal space with its 41cm x 19cm size.
The Amazon reviews for the product sit at 4.6 out of 5 stars. Purchasers praise the quality of the product, the excellent customer service and the ease at which weights can be switched with the dial system.
Pros
Wide variety of weights
Well built, safe product
Cons
6. Power Block Pro 50 Adjustable Dumbbells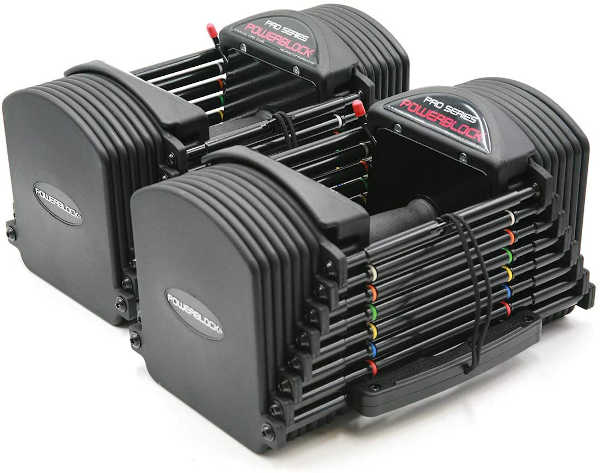 The Power Block Pro 50 set of adjustable dumbbells come in a patented, compact design unlike anything else on this list.
Packing over 20 different potential weight choices, it can replace up to 20 pairs of separate dumbbells, saving both space and cost in your gym.
The block has colour coded weight increments listed on the top in both lbs and kgs alongside a grip that allows you to lock and unlock the switching mechanism of the dumbbell.
The Urethane coated steel weight plates offer smooth and quiet performance, with easy, durable switching of weights.
Further, the contour textured TPR comfort handle provides a safe and secure grip whilst you work out.
Ranging from 1kg to 22kg, the weight increments are as follows:
The increments are: 1.1, 2.2, 3.4, 4.5, 5.7, 6.8, 7.9, 9, 10.2, 11.3, 12.5, 13.6, 14.7, 15.9, 17, 18.1, 19.2, 20.4, 21.5, 22.7 kg
The reviews on Amazon sit at 4.6 out of 5 stars. Customers love the compact style of the product as well as the build and design.
Some customers do find issues with the system involved in switching the weights. The Power Block has a unique method compared to others on this list.
Keep this in mind, as some find that it takes longer to switch weights, however, others do praise the system. There may be a learning curve but if pace and time is no issue for you then I wouldn't stress too much.
Pros
20 different weight choices
A set of dumbbells
Cons
7. Yaheetech 30KG Adjustable Dumbbells Weight Set
The Yaheetech 30kg adjustable spinlock dumbbells come with everything you need to go through your weight lifting routine at home.
This durable pair of dumbbells include concrete weight plates totalling 30kg and a chrome finish bar with PVC textured grip to prevent any slipping during your workout.
The concrete plates are covered in plastic to avoid any damage to your floor or other surfaces whilst they are stored or not in use.
Further, the spinlock collars which go onto the threaded ends of the dumbbell bars provide a tight, secure fit and easy, quick weight plate changes.
The Yaheetech dumbbells can be a great starter option for anybody wanting to set up a gym at home.
The weights included alongside the two chrome handles are:
4 x 2.5 kg
4 x 2 kg
4 x 1.5 kg
4 x 1.25 kg
Reviews for these dumbbells sit at 4.2 out of 5 stars on Amazon. Many customers praise the value of the weights as well as the speed of delivery.
However, the top review on Amazon suggests that the dumbbells are of very cheap quality with the grips on the handles beginning to smell toxic and wearing away with use.
Further, customer service is also questioned.
Pros
Pair of dumbbells
Up to 30 kg in weights
Cons
Separate weights can cause clutter
Considerations When Choosing a Set of Adjustable Dumbbells
When looking for adjustable dumbbells you should be looking for products that provide durable, comfortable, easy, and varying usage for a good price.
You'll want to make sure it's worth forking out that one time cost compared to a monthly gym membership price.
Ease of Use
You don't want your home workout to be a chore.
You'll be switching between many different exercises in your workout, so a good option is one that is simple to use and won't give you a problem when you want to change the weight your using.
Furthermore, it's important that switching weights is quick as you don't want to lose vital workout time by having to fiddle with loads of knobs and dials in a confusing system.
Durability
Sets of adjustable dumbbells can be expensive. It's important to keep in mind that this one time cost should be compared to the monthly cost of a gym membership.
This one time cost can save you lots of cash in the long run, whilst providing you with the opportunity to achieve your goals anyway.
Therefore, look to what other users have said about the adjustable dumbbells and which they've found to be the longest lasting and best value.
Comfort and Grip
To achieve your fitness goals, exercise has to be something you enjoy and are comfortable doing.
A style of adjustable dumbbells that provides a soft, textured grip and comfortable support can make your workout easier.
You don't want to be distracted by an uncomfortable handle or worryingly weak weight switching system.
Weight Range
This can be dependent on the level of gains you're looking for.
However, the thing which leads to any sort of growth or fitness is gradually increasing the weight you lift to actually build muscle.
Therefore, the maximum weight of some products can be a determinant in some user's purchases.
Sets offering a wide variety of weights can be better for some as more value can be found in them. If you're just getting into fitness, you won't need the heavy-duty weights which some sets offer.
FAQs
What are Adjustable Dumbbells?
Adjustable dumbbells allow the user to change how heavy the weight is they are lifting.
By comparison, traditional cast iron dumbbells have a set amount of weights at each end which cannot be changed.
They present greater value and save lots of space in home gyms which may not be capable of holding a full dumbbell rack with 30 sets of weights.
What are the Benefits of Adjustable Dumbbells?
Adjustable dumbbells can be a great option for any home gym with their versatility, price and effectiveness.
Versatile
With adjustable weights, adjustable dumbbells can be used for a variety of diverse exercises and fitness routines affecting all aspects of your body.
Also, they can be a part of your fitness journey in the long run, no matter what stage you're at. If you're just beginning then you can choose the lower weight options.
If you're nearing your goals, you can choose the heavier options to get there. With just one adjustable dumbbell it's possible to achieve the fitness levels you want to be at.
Budget-Friendly
The price of the best adjustable dumbbells is great for those who are looking to build muscle and fitness on a budget, at home.
With a one-off price, the cost of adjustable dumbbells compared to those of other alternatives such as a gym membership or non-adjustable dumbbells is cheap.
Muscle Building
A brand of adjustable dumbbells that offers a wider assortment of weights or, for example, the option to transform into a barbell are great for muscle building.
A barbell will allow you to perform more exercises such as bicep curls on both arms at once. You'll be able to get more out of your dumbbells, exercising not just your arms but your whole body.
A wider variety of weights gives you even more room to build muscle. The one thing that is crucial to muscle building is gradually increasing the weights you lift over time.
What Different Types of Adjustable Dumbbells are Available?
There are two different models of adjustable dumbbells you can choose from. Each has its advantages, in the end, it's up to you to decide which you'll get the most out of.
Traditional
The most typical models of adjustable dumbbells are spin lock models. They come with separate weights which are put onto the dumbbell bars and fastened on with a spinlock.
These can be inconvenient due to the longer weight change time and the space that excess weight plates can take up.
Selectorized
These types of dumbbells can come with something of a learning curve, however, it never usually takes longer to get over.
Some dumbbells come with a selector pin to choose the weight you want to lift. Whereas some come with a rotating grip to choose your weight or a dial on the side.
All selected dumbbells come with an auto-lock lever to ensure a safe and secure workout, no matter the mechanism they implement.
Conclusion
When choosing dumbbells there are numerous things to consider.
The price compared to your budget, the type, and the weights they offer are all important factors. Dumbbells that are adjustable can provide you with a versatile workout routine for cheap.
A dumbbell set that is durable and, in the long run, cost-effective will save you money whilst allowing you to achieve your fitness aims.
Related posts: