Top 7 Vertical Climbers in the UK
A full body workout is the best way to stay in shape from the comfort of your own home. The best vertical climber works all of the major muscle groups, burning more calories than isolation workouts whilst also improving stamina and endurance.
Small (perfect for flats) and affordable, a vertical climber is a great choice for anyone who wants to stay fit without paying for gym fees.
Take a look at the 7 vertical climbers that we think are the best below:
1. Maxi Climber Vertical Climber
Maxi Climber is a personal favourite, and it's an affordable, low-impact machine. Forget about jogging, running or hiking. This model works your entire body, allowing you to maximize your workout routine.
You'll see results faster with Maxi Climber.
A low-impact model, you'll use your own bodyweight for resistance to reduce stress on your joints. You won't experience nagging ankle, knee or hip pain thanks to the ergonomic, low-impact machine.
Maxi Climber's steel construction allows users up to 110kg to use this lightweight, portable machine.
Two L-shaped handlebars allow for ease of use and gripping. You'll also be able to adjust between five different settings for maximum customization. When you're done with your workout, fold the Maxi Climber up and place it under the bed or in the closet.
Pros
Folds up for easy storage
Low-impact
Diet and exercise plan included
Cons
A lot of users have had issues with their display or counter not working properly, but the issue is most commonly a flat battery. Replace the battery and the issue should be corrected.
Maxi Climber is on a mission to be the best vertical climber in the UK. Maxi has also included a few additional items in the box:
Diet plan
Exercise plan
Digital counter
Wall chart
Climb your way to fitness with a low-impact, dynamic workout that is suitable for users of all fitness levels. Maxi Climber offers the best vertical climber for the price. The unit is not the sturdiest, but it will provide a great workout and offers a price point that can't be beat.
Also make sure to check out our detailed Maxi Climber review.
2. Gym Master Heavy Duty Vertical Climber
Gym Master's heavy-duty model comes with metal parts and a frame that is designed to be stronger and safer than the competition. Designed for a low impact, full body workout, this machine has a slew of adjustments that allow you to get started on your road to fitness with as little effort as possible.
The height can be adjusted, and the multi grips allow for comfortable positioning when targeting any muscle group.
When exercising, the unit provides a clear monitor that allows you to reach your goals with greater ease.
Monitor your workout and intensity to reach your goals faster with Gym Master. The monitor includes six key metrics:
Scan
Time
Count
Calories
Tot.Cnt
RPM
The heavy-duty design allows for users up to 150kg to use the climber. Maximum user height is 225cm with adjustment points to adjust the unit to a position that is comfortable for you.
Padded handles and grips on the foot holders provide additional comfort and safety to users. When you're done exercising, fold the unit up and place it in the closet.
Pros
Heavy-duty frame
Padded handles and grips on the foot
Withstands consistent use
Cons
Constructed with heavy-duty metal, the Gym Master's biggest fault is that it starts to squeak, especially if it's been sitting for a couple of months. Despite these small niggles, the machine works well, offers immense comfort and provides a gym-quality workout in your own home.
3. Sportstech Innovative 2-in-1 Stepper & Vertical Climber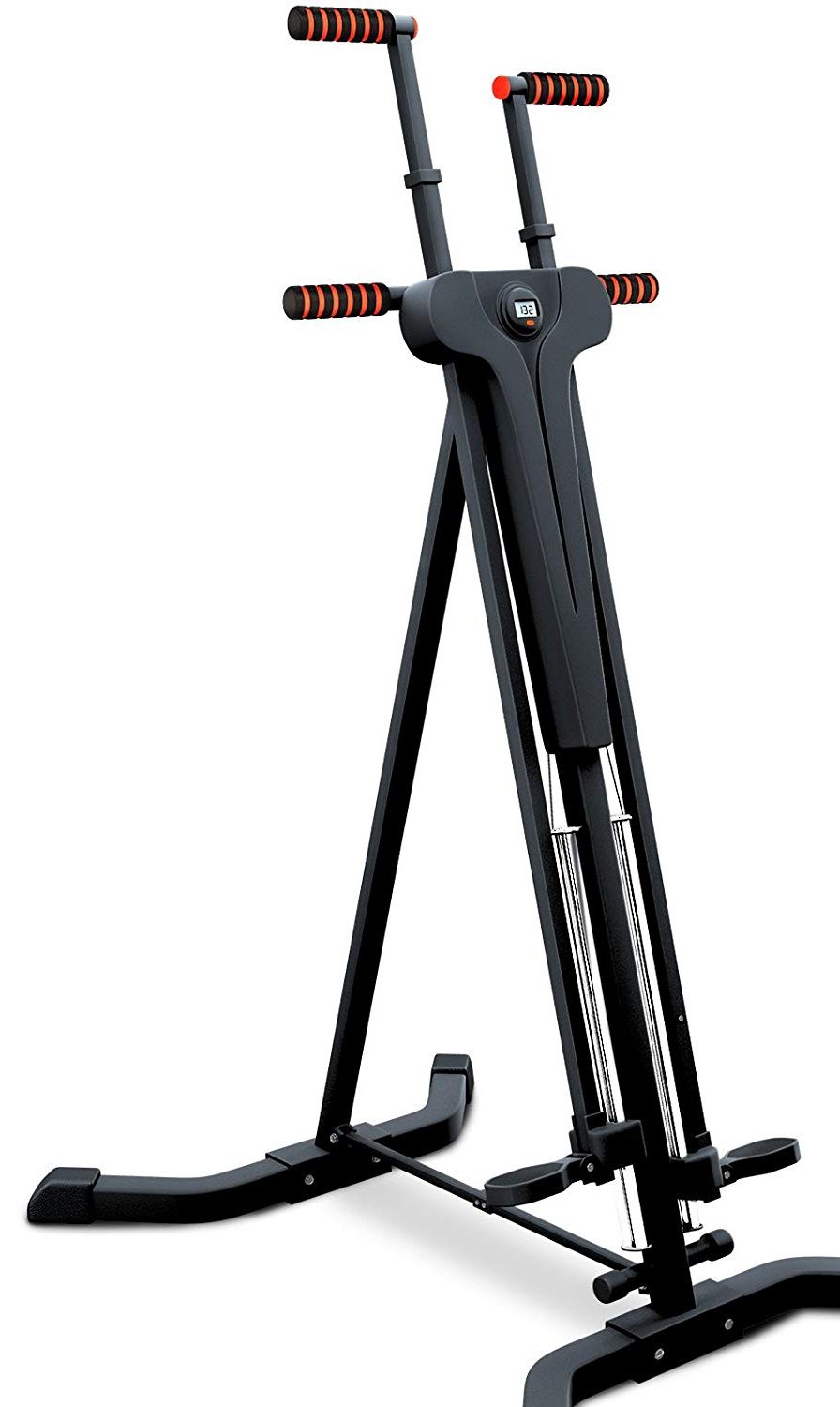 Sportstech is a little different than competing models. The unit is a 2-in-1 model that offers a stepper and climber. Combining two devices into one, the unit allows you to get a full body workout with greater focus on the legs and buttocks than a vertical climber alone.
The multifunction display allows users to see results right in front of their eyes, including:
Calories
Step counter
Chronometer
Ideal for anyone wanting to perform HIIT, the system provides clear readings of vital workout metrics while also offering an intelligent folding design. Wide, rubber feet keep the unit stable and in place even during the most intense workouts.
Comfort is provided, with easy-grip handles and five height adjustments. Adjust the height of the unit to a position that is comfortable and natural for you.
Maximum user weight is 120kg.
Pros
2-in-1 design
Multifunction display
Pulley system design
Cons
Sportstech prices this model about 20% higher than competing models on our list. Although it's a 2-in-1 design and the design is excellent, the unit's price may make it outside of the price range for many consumers.
But the climber and stepper combo is easy to assemble and provides greater focus on key areas, including the legs and core, compared to a vertical climber on its own. The model folds up vertically, and it's very easy to position the unit.
4. KY Stepper Vertical Climber
The KY Stepper is expensive, but it's going to be a long-lasting model that can withstand daily use for years. Users will use their own bodyweight when climbing, so you don't have to worry about excess stress on your joints.
Maximum user weight is 110Kg, and there are two, L-shaped handlebars that allow for long-term comfort when climbing for longer periods of time.
Steel is used in the construction of the KY stepper, so it's more durable than a lot of other models. But steel is heavier than other materials.
There are five height adjustments for users of almost any height.
A pin holds the unit together and can be released when it's time to fold the unit up and store it away. The unit does have a monitor that helps you better track your session.
Pros
Steel construction
Multiple height adjustments
Easy to setup
Cons
KY Stepper's steel design makes this one of the most durable vertical climbers on the market, but the steel also adds to the overall cost of the unit. You'll pay more for this model than any other on our list, but you'll also benefit from a near-commercial build with less risks of the climber breaking or wearing down over time.
5. Capital Sports Vertical Mountain Climber
Capital Sports helps you build muscle faster and more efficiently with a mountain climber that is joint-friendly. A great choice for beginners, the climber will strengthen your core, legs and buttocks – amongst other muscles.
Body-size adaptions are available, allowing you to adjust the grips and height of the machine to match your unique body.
The comfortable grips have a foam covering so that you can exercise for hours without aches or pains in your hands. The simulated climbing movement requires an upright posture and strengthens the core muscles.
Well-built, users up to 110kg can use the climber without any safety issues.
Pros
Easy to assemble
Sturdy and durable
Chain-driven design
Cons
One small complaint, and it's common amongst all climbers, is that the unit can be noisy when climbing intensely. The noise isn't so high that it's irritating, but it does catch some users off guard during their first few climbs.
You will want to note that there is not an included counter. A lot of users would be upset about this, but counters are often inaccurate and add to the cost of the climber. Climb at an intensity that you find difficult for a duration that you can sustain, and you will strengthen your muscles and burn more calories.
Reliable, easy to use and safe, the Capital Sports climber is an excellent vertical climber that offers superb durability and a chain-driven design.
6. Zerone Vertical Climbing Machine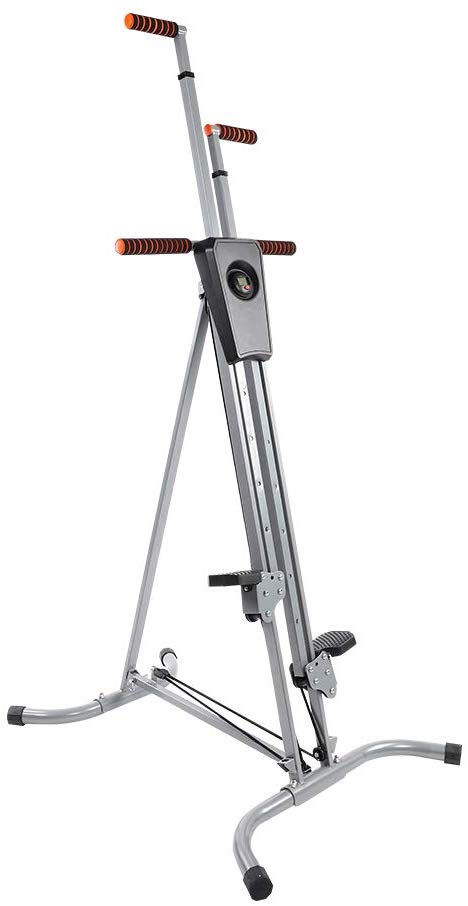 Zerone's steel design and low price make this climbing machine able to accommodate users up to 200kg in weight. Users that are over 110kg will find that the Zerone Vertical is one of their only options for a durable, safe climber that us meat for heavier users.
Five height modes allow for perfect alignment of the legs and upper body for a natural climbing experience.
A mini display allows you to monitor key metrics of your climb, including:
Calories
Time
Calorie value
Fold the climber when not in use to save space. Non-slip and wear-resistant, the handles offer life-long comfort. If the unit does have a problem, there is a life-long warranty service that allows you to have parts replaced or the unit fixed.
Quiet, this is the climber that can be used when the whole house is asleep and you want to get in an early morning workout without everyone waking up.
There are also plastic pedal rollers.
Pros
Minimal self-assembly
Fast delivery speed
High weight capacity
Cons
Bits missing on some units
One user complained that a few bits were missing from his unit when it shipped. No one else has complained about these missing bits, but if you do have missing pieces upon arrival, contact the manufacturer and they will remedy the issue.
The high weight capacity, advanced monitor and minimal assembly make the Zerone the best vertical climber for heavier users.
7. Ancheer Unisex Vertical Climber
Ancheer's unisex climber is the least expensive model on our list. Offering a stepper cross core system, this model incorporates a climber and bike into one. The unit's compact design allows it to be folded up and placed in a closet or corner.
It takes just three steps to fold and unfold the unit.
The unit can hold users up to 158kg, so it's able to withstand a far higher user weight than the competing models on our list. But this model also offers a seat and bike pedal design that allows you to either choose to bike your way to your fitness goals or climb your way to fitness.
The height of the machine can be adjusted to six unique positions, so small and tall users will be able to use the Ancheer with maximum comfort.
A digital monitor allows you to track your workout so that you have a general idea of how many calories you've burned in a session.
Pros
Bike and climber combo
High weight capacity
Six height adjustment options
Cons
Ancheer packs a bike and climber into one unique system, and while the unit is great for the price, it does suffer in terms of monitoring. The monitor leaves a lot to be desired and may not be as accurate as other monitors on our list.
But for the price and combo design, Ancheer still makes our best vertical climber list.
Vertical climbers are the go-to way for anyone to burn fat and build muscle at home. If you're trying to decide whether an cross trainer, exercise bike, treadmill or rowing machine is better than a climber, here are ten important reasons to buy a climber:
Climbers offer a low-impact workout that is gentle on the joints and are perfect for anyone with joint injuries or who is suffering from old age
Workout times are short, offering a full body workout that can be completed in less time
Full body workouts have been shown to accelerate fat and weight loss
Full body workouts burn more calories with less effort
Compact designs allow you to store climbers in a closet or under the bed
Related: Best treadmill UK
You'll increase your metabolism, burn fat faster and increase your endurance with a vertical climber. The key is consistency. If you exercise four or more days a week, you'll be able to lose weight and build muscle fast.
If you don't want to spend the money on a gym or don't like going to the gym, a vertical climber is the right at-home piece of equipment for you. Climbers are safe, versatile and provide a full body workout that other cardio equipment cannot offer.
Read Also: