For consumers that are looking for home fitness machines, there are a lot of options out there. One category of machine that can offer a variety of different benefits is rowing machines.
They can be good for burning fat and building muscle and they provide a good low-impact workout. If you want a compact rowing machine that has some nice features, read the following Body Sculpture BR1900 review. This model also featured in our top rated list.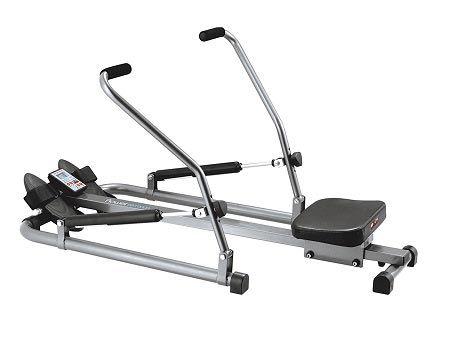 Features
Twin hydraulic system
Variable resistance
Adjustable foot plates
8-wheel carriage on the seat
Maximum user weight 120kg
LED monitor for time, scan, calories used and rep count
Dimensions in cm: 124 x 80 x 17.5 (L x W x H)
1-year limited warranty from the manufacturer
A rowing machine can be a great piece of equipment to add to your home fitness center and this one scores well in a lot of categories. It provides a good workout that can be adjusted to the needs of the user and it has the screen for monitoring your progress, which is a nice little bonus.
For use, this machine is pretty straightforward and easy. If you are new to rowing, you can adjust the tension to build yourself up to a stiffer workout or you can go all out with the toughest setting. The seat moves easily on the runners and the motion of the rowing arms is natural and comfortable for the user.
If there are points that can be voiced on the negative, they would be the amount of noise that the seat makes when you are rowing and the fact that the machine offers no length adjustment. When you are rowing, you can really hear the bearings working under the seat and it can get a little irritating. It doesn't seem to be a functional problem, but this might bother some people.
As a positive, this machine is small and easy to store. The compact size of this rower makes it great for people that are working with a limited amount of space. Most people should be able to slide this rowing machine right under their bed when they are done their workout.
Pros
Twin pistons offer a good variety of settings
Comes with an LED monitor
Very comfortable to use
Compact and easy to store
Easy to assemble
Provides a great workout for people of all different fitness levels
Cons
The noise from the seat can be annoying
The Body Sculpture BR1900 rowing machine is a device that will provide good results for a variety of different people. It may not be as good as some of the full sized machines that you would find at a gym, but as a compact model for in-home use, this one does the trick. When you consider the price and the quality of the workout, this machine is a good value in the fitness department.