The V-Fit Tornado air rower is a club-style machine with a comfortable, ergonomic design, multiple-function exercise monitor and speed-proportionate air resistance. Designed for users of all fitness levels, this is a rowing machine that's affordably priced and offers a stimulating workout.
Features at a Glance
Chain drive, air resistance

Wide reach row bar
Contoured seat
Bearing mounted seat guide rollers
Oversized PVC footplates with pivoting design and two-position mount
Adjustable Velcro foot straps
Six-function, three screen monitor
Max user weight: 115kg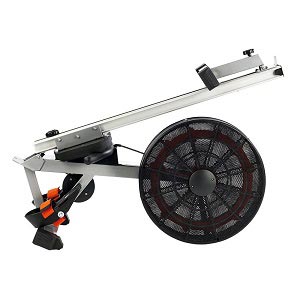 One of the first thing's you'll notice about this machine is that considering it is a fraction of the price for a commercial model, its design wouldn't look out of place in your local health clubs.
With chain drive air resistance, the resistance level is directly proportionate to your rowing speed. The faster and harder you row, the higher the resistance level will be.
In the comfort department, it excels. The PU seat is contoured and anatomically designed. The PVC footplates feature a pivoting design, so they move naturally with your feet as you row.
The footplates also feature Velcro-style straps and a two-position mount. No matter whether you're tall or short, this will be easy and comfortable for you to use.
The monitor, although functional, left a lot to be desired. In the product description, V-Fit states that this has a three-screen, six-function monitor.
It does have six functions, but we aren't quite sure where the other two "screens" are. That being said, the monitor does do a good job of tracking the following stats:
Calorie
Time
Total Count
Count
Strokes per Minute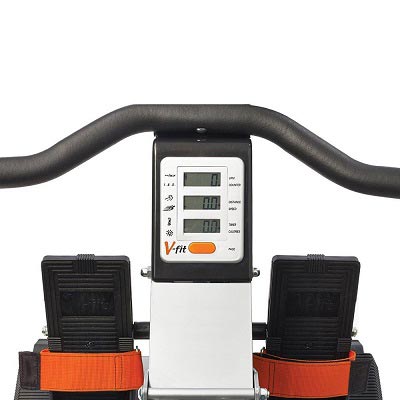 The final function, scan, rotates the feedback, so you can view each stat intermittently throughout your workout.
It can accommodate users up to 115kg, or 18.1 stones.
Rowing is smooth and comfortable. Because this is an air resistance machine, the intensity of your workout will be completely dependent on you. The faster you row, the higher the intensity will be. That's beneficial for all users because you're not dependent on a set number of resistance levels. As your fitness level increases, your speed and resistance will increase automatically. For this reason, this is a great choice for users of all fitness levels.
Pros
Air resistance is speed-proportionate, so workouts are intense no matter your fitness level
Club-style design and durable construction.
Digital display lets you track your workout stats.
Comfortable design with contoured seat and oversized footplates.
Smooth rowing thanks to the aluminum rowing rail and bearing-mounted seat guide rollers.
Cons
Noisy
No space-saving features
Like all air resistance machines, it is a bit noisy when in use. That's to be expected, but should still be pointed out to users who may not be familiar with air resistance machines. Another small complaint is that it does not have any space-saving features. This is another issue with air resistance have, but should still be noted.
This is an affordable air resistance model that provides an excellent workout. Durable, comfortable and smooth, it will provide you with a challenging workout that will adapt to your fitness level. This machine would suit a beginner/ intermediate user.