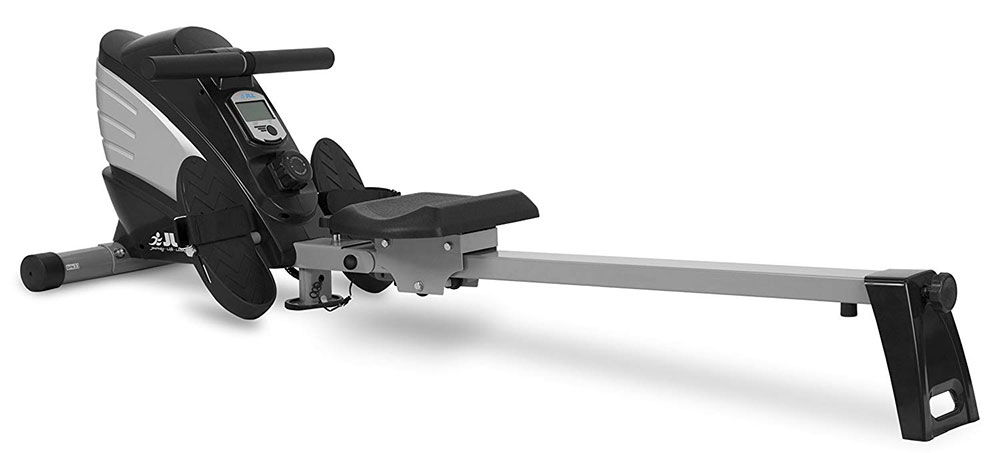 Coming at a very reasonable price without compromising on quality and features. After carrying out our review it is easy to see why the JLL R200 is amazon's best-selling model right now.
Its foldable design and quiet magnetic resistance make it ideal for home users. In addition, it does the basics well and provides a great cardiovascular workout. This model also features in our 9 best rowing machines on the market.
Features
10 levels of magnetic resistance
Large and clear LCD Display
Transport wheels
Foldable design
Maximum user weight of 100kg
Dimensions: 124cm (L) x 52cm (w) x 58cm (H)
1-year warranty
Product weight 23kg
Assembly
The first stage of any review is always the assembly process.
JLL have manged to keep the products overall weight to just 23kg. This is light when compared to many others on the market and makes it much easier to assemble on your own.
The step by step instructions are clear and concise, split into manageable steps with diagrams and explanations.
All in all, the assembly process took just over 30 minutes at a reasonably slow pace. Therefore, there should be no need to purchase the expert assembly option if you are not a confident DIYer.
Resistance
One of the most important factors for some users is the amount of resistance.
This model comes with 10 different levels of magnetic resistance to choose from. Level 1 has a very light resistance but level 10 has a moderate to strong resistance and will be more than enough to give you a good cardiovascular workout.
Magnetic fitness equipment tends to struggle when it comes to the amount of resistance it can generate, especially cheaper models. However, this doesn't appear to be an issue with this product.
Each of the 10 levels of resistance can be selected via the turn dial knob located on the main frame just below the display.
As the dial knob is within arms reach it makes altering the resistance a doddle as you won't have to unstrap your feet to reach it.
In addition to the magnetic resistance, JLL have incorporated a belt driven system which is supposed to help keep the rowing motion smooth. Sometimes magnetic resistance feels jerky while you wait for it to engage, but the belt drive does help maintain a constant smooth resistance.
In addition, it is very quiet while being used. This makes it particularly appealing to home users that don't want a loud machine disturbing other people.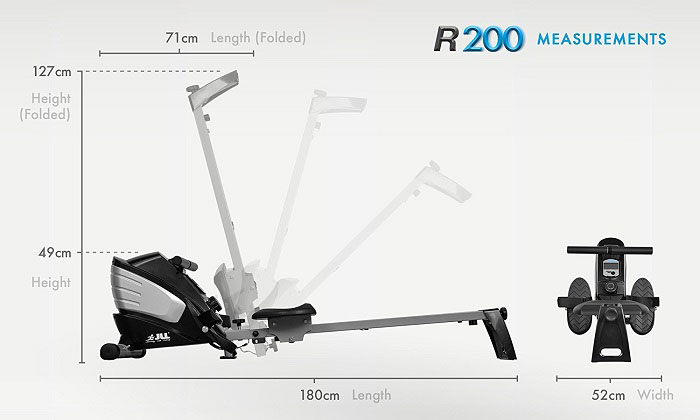 Design
While exercise equipment can take up a considerable amount of space. JLL have included a folding mechanism for the seat rail. Thus, reducing the overall length of the product from 180cm to just 71cm when folded.
Folding takes a matter of seconds as you only need to follow these steps:
Unscrew the knob on top of the seat rail.
Pull the side adjustment knob to release the rail.
Then lift the rail until it clicks into place.
Re-screw the first knob into the underneath of the rail to secure it in the upright position.
You can also fold down the rear leg of the rail if you want to. However, it takes up minimal extra space.
To make it even easier to store away in-between uses, it comes equipped with transport wheels. This makes it very easy to move around your home even though on carpeted floors it can be a bit more difficult.
In an attempt to keep the model as light as possible the seat rail is made of aluminium. However, the machine can only support users up to 100kg. We would have hoped to see a maximum user weight of at least 120kg so that it could accommodate more users looking to get in shape.
Comfort
An area that often gets overlooked but is very important for comfort, is the seat. The R200 comes with a moulded foam padded seat.
It is surprisingly comfortable for a model in this price range which often cause a numb bum after 5 minutes.
The seat also comes with a dual set of rollers which make the seats motion smooth while rowing.
Although the handle bar is described as being "ergonomic," I am not sure how a straight padded bar is. Nonetheless, it does the job, is comfortable in your hands and doesn't slip.
However, it would have been nice if it was shaped a bit more "ergonomically" as rowing can be tough on your wrists.
Two areas that often cause concern for taller users are the footplates and rail length.
The footplates are large with an anti-slip finish that can fit all users. In addition, the Velcro straps make it quick and easy to jump on and off if you are performing a circuit.
With an overall seat rail length of 115cm it should be more than enough for most users. There were a good few inches of rail left at full stretch even with a 6-foot-tall user.
Display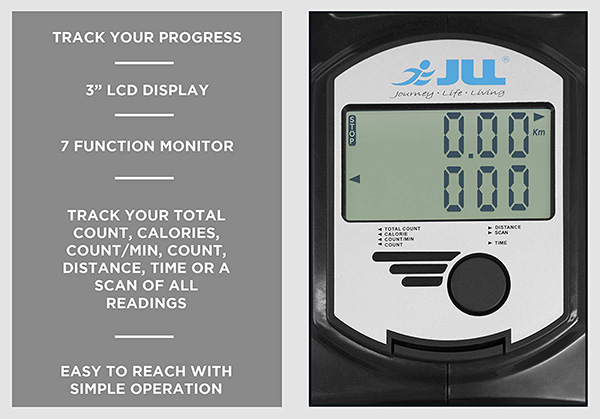 The large LCD display makes it easy to see all the important information even while rowing.
It comes loaded with 7 different functions to choose from:
Total count
Calories
Stroke rate
Count
Distance
Time
Scan
Note: The difference between count and total count is that the Total count is the number of strokes since the machine was first used. Whereas count is the number of strokes in the current workout.
Swapping between the different metrics is simple and only requires the push of one button. Also, if you press and hold the button it will reset all readings to zero.
While the display might not have the fancy features that you get with some of the higher end models. It tracks the basic metrics well and when you consider this machine can normally be bought for under £200 it is hard to expect much more.
Warranty
In addition to all the above features, it also comes with a 1-year warranty and a 30-day money back guarantee.
This helps to give you added peace of mind for an already great value.
Summary
In conclusion, the R200 is great all-round and it is clear why it is one of the best-selling models on the market today.
If you are looking for a unit that is foldable, quiet, gives you a great cardiovascular workout and all for a very reasonable price then it is hard to beat this product.
The quality of workmanship is great with a design that is functional and does the basics well.
If you are looking for a few more features, then we recommend you check out a model like the BodyMax Infiniti R100. However, this will cost you more.