If you're serious about rowing, this is a great option. The V-Fit AR1 Artemis 2 is a club-style air rower that will give you an intense workout right from the comfort of your own home. Designed for intermediate to advanced users, this machine features a space-saving design and durable construction. Let's take a closer look at this model in our detailed review.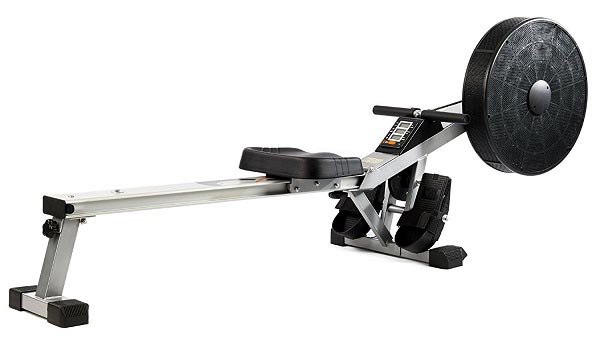 Features
Chain-drive
Speed driven by air resistance
Oversized, pivoting PVC footplates with adjustable foot straps and two-position mount
Advanced monitor with three screens and six functions
Steel frame and aluminum rowing rail
This is one serious machine. It's not like other models that use piston or magnetic resistance. This machine uses air resistance, so the faster and hard you row, the higher the resistance will be. Air resistance models are also the closest thing you can get to the actual rowing experience.
This particular machine is just like the ones you find in local health clubs. It has a durable steel frame and aluminum rowing rail. The PU padded seat is contoured for additional comfort, and the guide rollers for the lower and upper seat are bearing mounted.
The foot plates are oversized and pivot for natural movement, and feature a two-position mount with comfortable foot straps.
What Does the Monitor Track?
To help you keep tabs on your progress, this machine does come with a monitor. In fact, it comes with three monitors with six functions. The first monitor tracks SPM (stroke per minute) and features a counter. The second monitor tracks your speed and distance. The third monitor tracks your time and calories. The monitors are conveniently located just below the padded safety handles.
How Compact is it?
One of the great things about this model is that you don't have to sacrifice space for a good workout. You can have the best of both worlds. It folds in half to save on space and for easy storage when not in use. When folded up, the machine's dimensions shrink to just 120cm x 44cm x 75cm. With a weight of just 19.5kg, you can move this machine when not in use for easy storage.
Even if you live in a small flat, you can still use this machine without using up an exorbitant amount of space in your home.
If you're concerned about noise, don't be. It is surprisingly quiet, and the wind resistance gives you a nice cool breeze with each row.
Pros
Uses air resistance to create that "real rowing" feel
Three monitors let you track six key areas of your workout
Lightweight enough to move away for storage
Easy to assemble
Folds up for easy storage
Adjustable foot straps and contoured seat add comfort
Durable construction
Cons
Okay, wind resistance really isn't a con, but I feel it needs to be mentioned again. There are a few people who have given this machine a poor rating because they said there was "no resistance adjustments" or that the machine's resistance was "too low". It's important to remember that this machine's speed is driven by air resistance. The harder and the faster you row, the greater the resistance will be. This isn't a con – in fact it's a benefit – but if you're looking for a machine with piston- or magnetic-type resistance, this is not the machine for you.
Also check out our rowing machine reviews guide if you want to see other resistance types.
Overall, this is a great air resistance machine that offers a fantastic workout, the ability to track multiple aspects of your workout and a comfortable workout. The space-saving design allows anyone to use this machine regardless of the size of their home.