Foldable, robust and durable, the JTX Freedom air rower delivers a challenging workout without imposing on your personal space. Using a combination of air and magnetic resistance, this machine can make even the most advanced users break a sweat.
A top rated model in our rowing machine reviews buyer's guide, this product is well-made, and it comes equipped with most of the features that users want to see, like wireless heart rate monitoring and pre-programmed workouts.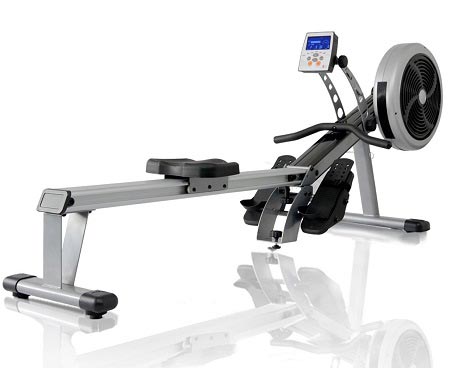 Features
16 resistance levels
8 built-in workout programs
2 heart rate options
Performance monitor
Ergonomic design with

Adjustable pedals
Adjustable console
Padded seat

Free delivery
2 year, in-home repair warranty
Durable & Gym-Quality
JTX have clearly designed it to withstand heavy use. While not designed for commercial use, it could potentially stand up to the abuse of a chaotic gym.
The durable frame and design allows the machine to support up to a maximum user weight of 130kg .
The frame is made with reinforced aluminum and also features the company's MotionRail system. The MotionRail system allows for a smooth and stable rowing experience.
This machine looks like it belongs in a gym, although it lacks the high-end features you'd expect to see in your local health club.
16 Levels of Mixed Resistance
It uses air resistance, but it also offers a mixture of magnetic resistance for a more customized, challenging workout.
The DualTorque system combines electro-magnetic and air resistance to allow for a much wider range of resistance levels.
Robust Computer with Pre-Programmed Workouts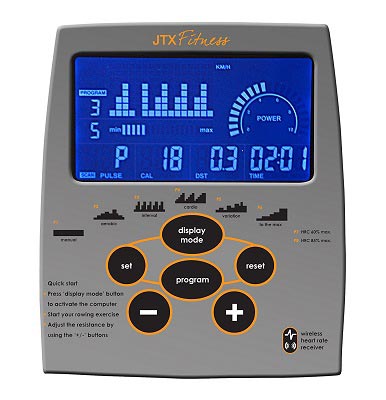 Nearly all models come with a computer that allows users to track their workout stats, but some computers are more advanced as others.
It has a relatively advanced on-board computer, but not quite to the level that you'd see on high-end machines. Users can track all of the usual suspects, including:
Distance
Speed
Revolutions
Time
Strokes per minute
Heart rate
Users can also track 500m split time, and torque or power.
Along with workout stats, the computer offers eight pre-programmed workouts. These programs are designed to make workouts more challenging and less predictable.
The workouts include: interval, hill, heart rate and profile. The heart rate training allows users to stay in their targeted heart range to burn the most calories and boost results.
Wireless Heart Rate Monitoring
It does have one advantage over other models: it comes with a heart rate chest strap. The strap allows for wireless pulse monitoring, so users can keep track of their heart rate while exercising.
The chest strap allows users to set a target heart rate. Using the heart training programs, it will automatically adjust the resistance level to keep users in their targeted heart rate range.
Adjustable Features and Fit
Along  with a durable frame and smooth movement, the machine also offers adjustable features for a better fit.
The 6-point adjustable footrest allows users to find the most natural foot position while rowing. The screen's position is also adjustable for easy viewing while exercising.
It's handlebars feature an ergonomic bend that allows for a natural hand and arm position.
It would have been nice to see some adjustability in the seat area, but the ergonomic handle and moving footplates allow users to concentrate on form instead of finding a comfortable position.
Folding Design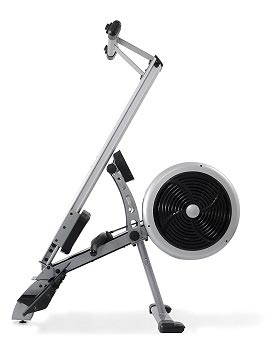 Air resistance machines typically have larger footprints just because they have big flywheels and extended seat rails. This unit is no different.
When in use, it has dimensions of 225cm (l) x 58cm (w) x 58cm (h). Yes, it does take up quite a bit of space, but it also folds up for easy storage in between uses.
However , it has dimensions of 112cm (l) x 58cm (w) x 150cm (h) when it is folded. The machine folds vertically to save space, and the attached wheels make it easy to move this machine to the corner of a room or a closet for storage when not in use.
The folding feature is nice, and being able to move the machine in between uses is an extra perk that people with smaller homes will appreciate. The machine weighs about 38kg.
Simple Assembly
It's relatively easy to assemble. One person can get the machine up and running in about an hour-and-a-half.
The biggest issue with assembly is getting the machine inside the home. This is a heavy machine, and it comes in a large box. Having someone help move the box inside can make the process easier. Buyers can also contact the company to discuss any access issues that may complicate delivery.
The Good
It offers a number of beneficial features that users of all fitness levels will appreciate.
The built-in workout programs help keep workouts interesting and plateaus at bay. The heart training programs sync with the included chest strap to keep users at their targeted heart rate. Having the machine adjust resistance automatically makes heart rate training more convenient and prevents users from having to stop to adjust the resistance level manually.
The free chest strap is also a perk that most other models don't offer.
Resistance Levels
The combination of air and magnetic resistance is also a welcomed feature. Air resistance offers a virtually unlimited range of resistance levels, but the electro-magnetic system adds an extra layer of difficulty. In total, there are 16 resistance levels to choose from, which can accommodate users of nearly all fitness levels.
The adjustable footplates help users maximize their results by finding the right position. For taller users, this means adjusting the footplates to ensure that they can perform a full stroke.
The folding mechanism is easy to use and helps users save on space. Those with smaller homes or flats may otherwise avoid buying fitness equipment because of their large size. The folding design solves this problem and makes this machine compatible with most users' homes.
The easy assembly of this machine is also a bonus. Users don't have to worry about spending hours putting it together. With two or three people working on the assembly, it can be up and running in less than an hour.
The machine also comes backed by a two-year warranty (home use). If it stops working properly, JTX will send out an engineer to fix the machine.
It has a durable design, so there shouldn't be an issue with malfunctioning parts for years to come.
The Bad
While this model offers many benefits, it's not a perfect machine by any means.
The most advanced users – athletes and professional bodybuilders – may find that the resistance levels aren't challenging enough to deliver a good workout.
Assembly is relatively simple, but it's important to note that the delivery driver may not bring the package to a second floor. Let's say you wanted to assemble the machine in the loft of your home. The driver would only deliver to the first floor, which can make it a little more difficult to get it where you need it.
There is good news though: It is delivered in two boxes. That means you can take each main part up separately to make it easier.
One surprising issue with this machine is that it may start lifting from the floor if the user rows too vigorously. Some people have fixed this issue by placing weights on the opposite end of the machine. But some people may find this to be inconvenient and may just want a machine that stays put no matter what.
While the footplates are adjustable, they generally don't accommodate shorter users. Even the smallest setting can be too big for people with smaller shoe sizes or shorter heights.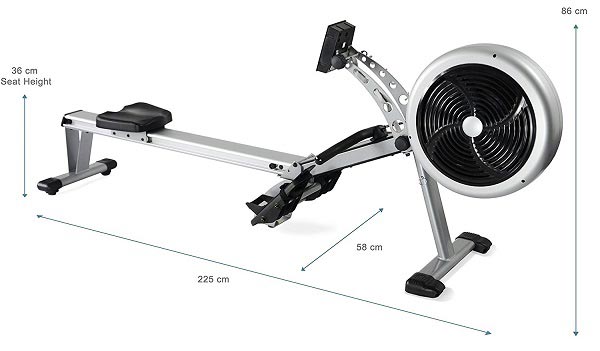 Our Toughts
Overall though, this is a well-built, sturdy and reliable machine that delivers a challenging cardiovascular workout. A wide range of resistance levels and adjustable features allow users to find the perfect difficulty level for their needs. Whether just getting started with a fitness routine or looking to take things to the next level, this machine is a smart choice.