Rowing machines are meant to mimic true water rowing. While magnetic and air resistance models do well, they simply do not mimic the true water rowing you would find out on the lake. It simply isn't possible due to the design of these models.
The WaterRower is different. First, it's made of beautiful ash wood that is durable, heavy and looks great in any space. Secondly, this model uses true water resistance for rowing, allowing the user to experience the real-feel of water rowing. Considered the best water resistance machine, this model has been used by expert rowers during the off-season to stay in shape and features in our top rowing machine reviews guide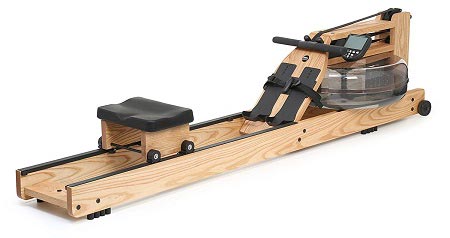 Features and Specs
Ash wood design
LCD S4 monitor
Heart rate monitoring via chest strap – not sensors
Maximum user weight of 350kg
Self-regulating resistance due to water design
Ergonomic design and handle placement
Low maintenance requirement
Compatible with a variety of PC software
From top to bottom, this was designed to provide the most realistic rowing experience possible. Ergonomically designed, it is made out of ash wood and glides smoothly along the beam with minimal friction felt.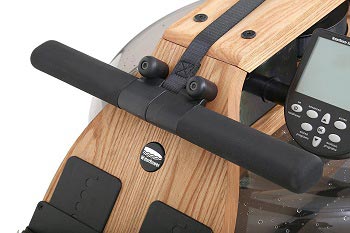 Your feet are strapped into the angled footrests that provide comfort and a realistic rowing foot position.
Handmade in the United States, this model comes with a 3-year part and 5-year frame warranty. Working your whole body, you'll burn up to 1,000 calories per hour on this machine. If you're worried about noise production, this is the quietest model we ever had the pleasure of testing – it's near silent.
Water Resistance
A smooth catch and release, you'll build up a sweat and be consistently challenged thanks to natural water resistance.
The harder and faster you row, the more natural resistance you get as a result of the water. If you want to build muscle and stamina and have the will to push yourself to the limits, you can use this machine from start to finish. This is the perfect water resistance for advanced and beginner users alike.
Eco-friendly, there is no need to use power, and the built-in S4 monitor is battery operated.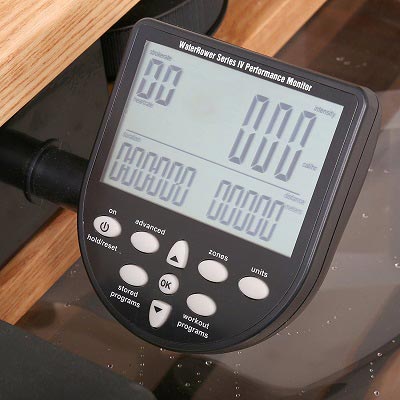 Monitor
The monitor provides vital statistics and one of the best heart rate monitoring options in the industry. Instead of using sensors, this monitor users a chest strap that does require a receiver and transmitter to work properly. This provides truly accurate heart rate monitoring at all times.
Maintenance is simplified. Users are advised to wipe down the machine after each use and empty the water periodically. Water purification tablets are provided to ensure mold and bacteria does not start to grow inside. There is never a need to oil chains or hard-to-reach parts again.
Software is included that allows you to tap into the power of the S4 monitor. Using a USB connection, you can tap into the following:
We- Row: An online rowing community.
NetAthlon: A virtual reality training and racing system.
UltraCoach: Training software that will ensure you push your rowing to the next level.
RowYo: Additional cadence training software.
The S4 monitor also allows you to track advanced data points, such as:
Stroke rate
Intensity / speed
Distance
Time
Time counter
What I really like about the S4 is that you can set an alarm to alert you when you have rowed for a specific amount of time. It's the perfect option for anyone that wants to zone out and not stare at the clock every minute to see how much time they have left to row. All you need are 4 AA batteries to run the monitor.
When you're done with your session, simply push the machine into the upright position and it will glide with ease thanks to the rolling wheels on the front. You don't need to take up an overabundance of space to row anymore.
Pros
Realistic rowing design and experience
Resistance is dependent on user
Silent rowing with advanced monitoring
Exceptional full-body workout
Cons
Heart rate monitor not included
While heart rate monitoring is present with the S4, you need to buy a monitor yourself and attach it. A more expensive model, I would have liked to see it come with a heart monitor. That being said, for the quality and performance, it is still one of the top machines on the market.
Note: If you are intending on putting this on a hard floor, it may be worth investing in a mat. This will help reduce any vibration and also will protect your floor from any possible scratches.