Maxi climber offers a small, compact way to get in a good cardio workout from the comfort of your own flat. Simple to assemble, this unit can support users of up to 240kg and can fold up after use to save on space. It also features as the top model in our best vertical climber guide.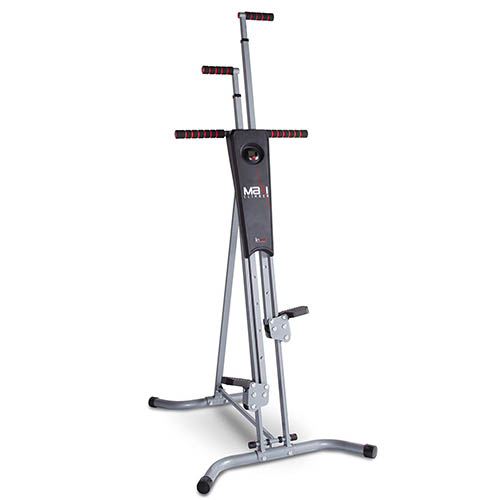 Compared to other alternatives, Maxi allows users to get a full body workout in less time.
How the Maxi Climber Works
Maxi Climber allows you to climb vertically in your home. Height adjustments can be made to better fit the user's height and arm length and provide an ergonomic way to climb.
Users simply open the climber, grab the handles, step on the pedals and climb.
Since the upper and lower body are engaged, you'll be working your:
Quads
Calves
Shoulders
Back
Core
Climbing provides a full-body workout. You'll work your upper and lower body at the same time, and can track all of your progress on the display.
When compared to other fitness equipment, climbers make sense for smaller spaces or anyone with joint issues. Since you're engaging more muscles, you'll also burn calories faster so that you can see positive results in less time.
Maxi Climber Versus Other Fitness Equipment
We want to make it clear when reading through our Maxi Climber review that this piece of equipment can match up against traditional cardio or home gym equipment.
The small size and compact design are just two of the reasons that consumers prefer this machine over others.
When you step on the Maxi, you'll be using a machine that's:
Ergonomic for natural, fluid movements
Low-impact and uses your body weight for resistance
Jogging, running and hiking, or using a treadmill, puts excess strain on the joints. Knees start to ache; ankles can become injured and you're only going to be working your lower body.
All of these exercises are great for burning calories, but a climber allows you to engage both your upper and lower body.
With your large muscle groups engaged, you'll burn more calories in less time.
If you engage in a high-intensity session, you can burn the following calories in a 30-minute session:
300 – 800 on the Maxi Climber
240 – 355 on a treadmill depending on weight and speed
2.16 per body pound every 30 minutes on an elliptical
260 while cycling
Engaging both the upper and lower body at the same time forces the body to burn more calories. You'll want to keep yourself accountable when using the Maxi.
Since the unit uses your body weight as resistance, it's up to you to climb at a higher intensity to burn more calories.
If you go too leisurely, you'll burn far fewer calories than what's listed above.
Maxi Climber Review: Features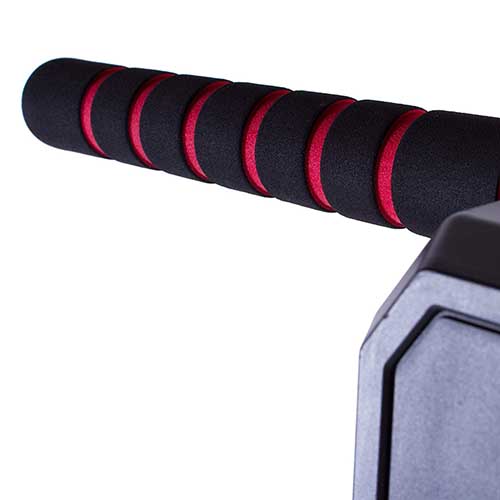 Maxi is the original at-home climber, and the company has learned a lot over the years to help create a product that is long-lasting and meets the needs of consumers. When you start climbing, you'll notice that the height may not be right.
Quick height adjustments – five in total – allow for a versatile, functional piece of equipment.
Customising the machine to your height ensures that you're in a natural position that doesn't put unwanted stress on your knees, arms or hips.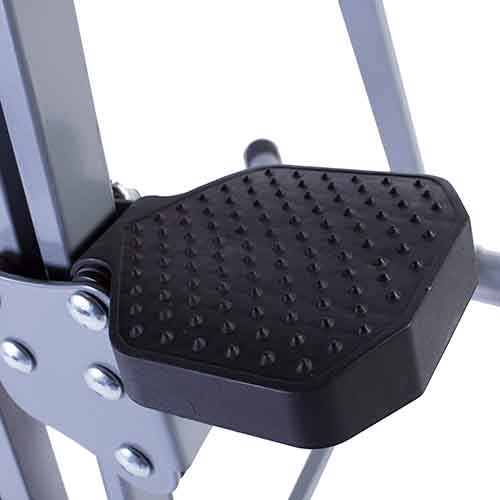 The L-shaped handlebars are padded and textured to ensure a comfortable, firm grip at all times.
Pedals are also textured to minimise the risk of the user's feet slipping when climbing.
The unit, suitable for all fitness levels, should be used 30 minutes, three times per week to see results.
When ordering the Maxi Climber, you'll also receive:
User manual that includes a full introduction to the machine and will help you with the assembly process
Maxi diet plan, which provides basic diet guidelines that anyone can follow to lose weight
Maxi exercise plan, which outlines the routine you need to follow with the climber to maximise your results
Digital counter, which further keeps you accountable and allows you to track your own progress
Wall charts for the diet and exercise plan, which are best placed right in front of the Maxi as a means of motivation
Low Impact Exercise
Adjust the unit's height, put on your sneakers and step onto the climber. Simple to use and control, you'll be using your own body weight as a means of resistance.
The body weight allows you to increase intensity to increase resistance.
Move faster, and the climbing becomes more difficult.
Without resistance, the unit makes you more accountable for your own workout. You need to push yourself hard, climb fast, and start feeling your upper and lower body muscles begin to burn.
Low-impact allows the Maxi Climber to provide an at-home cardio workout that sculpts your core, upper body and lower body while being perfect for people that are:
If you have knee, ankle or hip injuries, the low-impact nature of the climber allows you to be able to exercise without risk of strains or adding to your pain.
Anyone that has performed lunges before knows just how difficult yet essential they are for a leg workout. Maxi activates more muscles than a lunge and burns more calories in the process.
And there's no stress put on the joints.
Display and Accompanying App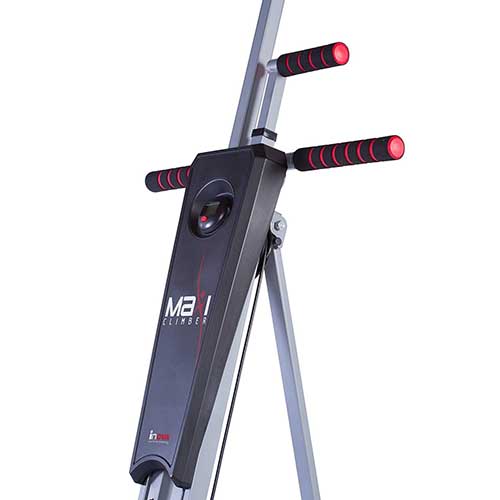 A display is built-in and provides basic information about your most recent climbing session. Battery issues do occur, primarily the battery arriving flat, but it's easy to replace the battery.
The display is centered at the top middle of the unit and is easy to read.
You also have the option of downloading the Maxi Climber app, which is available for Android and iOS.
The app, which is free and functional, allows you to follow along with the 21-day Maxi challenge, which features Mark Harari – a leading fitness coach.
You can follow the same routine that others have used to shed fat, and you'll also be able to:
Access 80+ recipes for the 21-day challenge
Follow a 21-day plan to lose fat
Track all of your workouts, including months, days, workout time and calories burned
Connect with friends to be able to share results and motivate each other
Get helpful notifications that nudge you when it's time to exercise
If you're dedicated and can complete the three-week challenge, you'll unlock four customised trainings.
Using the app is optional, but it's a great tool for anyone that wants some guidance on how to best increase their fitness, lose weight and do it all with their climber.
Since all of the coaching is provided, the app offers an experience that is similar to a personal trainer without the high price tag.
Maxi Climber is one of the fastest and most effective ways to exercise, build muscle and lose weight right from your flat. The small footprint and ability to fold up the machine allows it to fit in even the most compact of spaces.
You'll also burn more calories and see results faster with a climber than you would with a treadmill, elliptical or cycle.
Pros
Comes with an exercise plan and the Maxi diet
Low-impact exercise perfect for users with joint pain
Burns more calories than competing alternatives
Cons
Display battery arrives flat
Squeaks a little
When reading through Maxi Climber reviews, two main issues were found: the display battery arrives flat, and the unit squeaks on occasion.
Flat batteries are a hassle and so is squeaking, but neither of these issues impact the functionality of the vertical climber.
Swap out the flat battery with a new battery if the display doesn't work. The unit operates on an LR44 battery, which can be purchased online or in retail stores.
The Maxi Climber is easy to use, utilises your body weight for resistance and provides a true full-body workout. If you want to be able to exercise in the comfort of your own home, Maxi Climber offers a low-cost, viable option.