Reebok's ZR9 improves on the features of the Z9 released in 2011. Robust and durable, this unit does weigh 79 kg – so it's a bit on the hefty side.
Delivery as close to or in the room where you'll store this model is the right choice when available.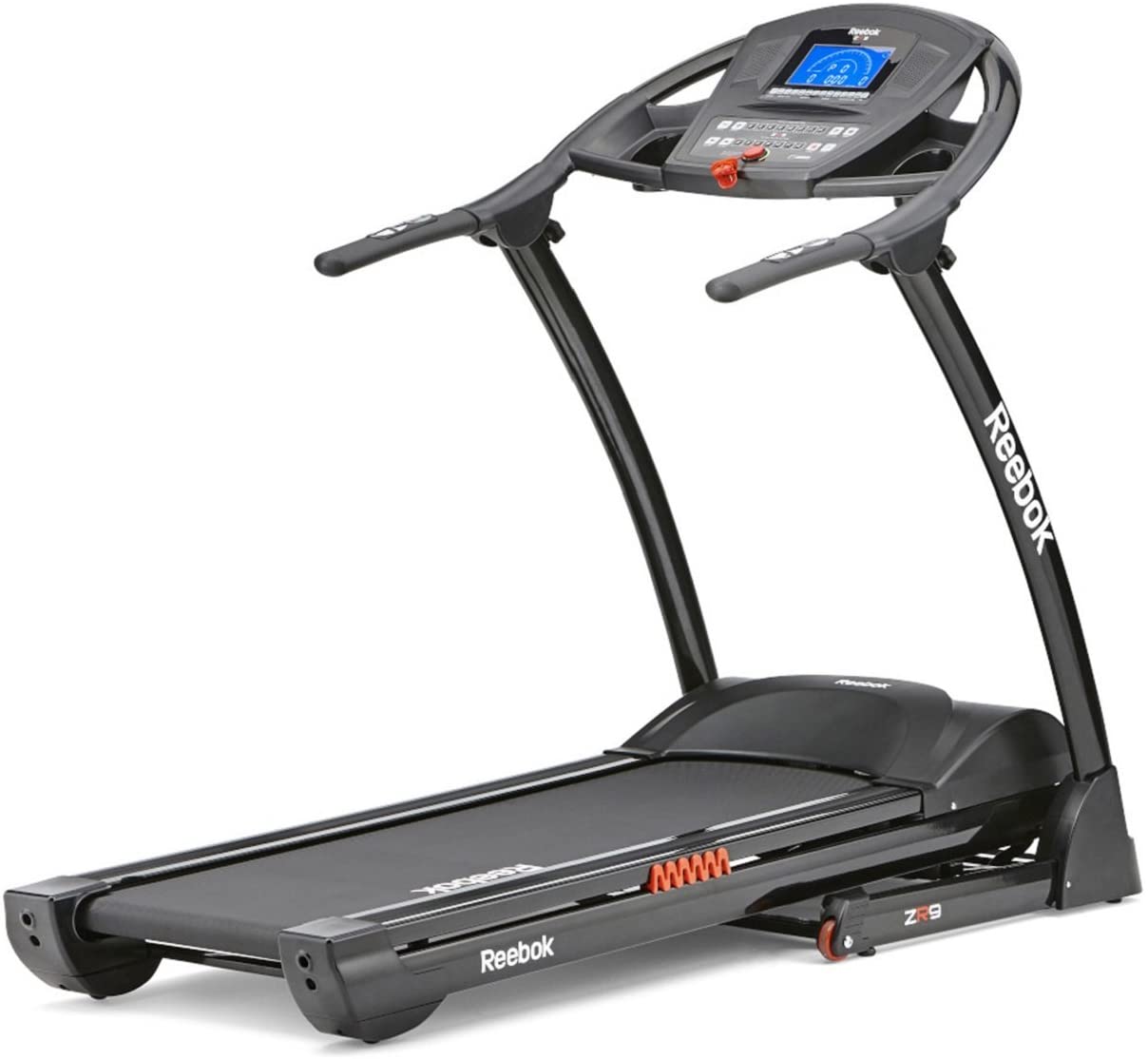 We're going to be covering the basics of this machine first (i.e. getting started and the setup process) before diving deeper into features that can impact your workout.
The ZR9 has 12 incline levels that will leave your legs burning, a built-in ZigTech cushioning system that makes running easier on your joints (perfect if you have knee pain) and so much more.
Getting Started with the Reebok ZR9
Don't like a long, complicated assembly process? You're going to love the Reebok ZR9. When the unit arrives at your door, it's 95% assembled for you already.
In fact, you have to do just two things before getting started with your first session:
Position the frame bolt
Set the arms
You should unpack the unit and keep it folded on the floor when assembling. The running deck should remain facing up. Be sure the wiring is clear before lifting the supporting arms upright.
Once lifted, insert the bolts in the corner bracket on the left and right side of the unit.
Tilt the console, raise the handlebars and insert the handlebar knobs.
Attach the frame covers, affix and you're free to remove the red safety locking connection. Keep this connection in a safe place for future use.
An on/off switch is located on the front of the unit at the bottom. Turn it on to get started with your first session.

Note: The running belt is pre-installed and will require routine realignment to continue running smoothly.
Make sure to check out our Best Treadmill guide
Key Specs to Consider Prior to Purchase
There are a few key specs that we think you need to know about before going any deeper into this review. One of them is the 79kg weight – it's a heavy piece of equipment.
The second thing: maximum user weight is 120kg, or roughly 18st and 13lb.
Users that exceed this weight threshold may want to consider a machine that's designed for higher maximum user weights.
Dimensions are 148cm height, 85cm width and 104cm depth when folded and 133cm height, 85cm width and 168cm depth when unfolded.
We think these are the specs that everyone needs to know about before making their purchase.
If the weight of the unit isn't going to be a problem for you during assembly and your weight doesn't exceed the maximum rated weight limit, we think you're really going to enjoy your workout sessions.
Features and Operation
The Reebok ZR9 has the features you need without the feature-overload of other models. Sometimes, too many features make your cardio session tedious and means more chances to break.
But we're really satisfied with the features offered, starting with the 2HP continuous power and peak power of 3HP.
Speeds can be adjusted from as slow as 1kph to 16kph, which is when peak power is reached on the unit. Adjust speeds at 1kph intervals to slowly increase your maximum speeds and try to reach peak performance.
The motor is one of the best we've seen in this price range and is what you're paying for. Reliable and near-silent, the motor is designed to run for over 10 years without an issue.
Reebok is so confident in their motor's design that it's backed by a 10-year warranty.
Users will immediately notice the quality difference when they start up the machine for the first time.
When running, the ZigTech cushioning system reduces impact on the joints, primarily your:
Manual speed and incline adjustments (12 in total) can be made to customise your session.
Users that don't have the time or patience to make all of these adjustments on their own can switch between 16 user programmes or six functions you can program in yourself.
Hand pulse sensors are built-in that display your heart rate on the LCD display. You can also adjust the incline level on the handlebars, which allows you to maintain your balance while changing incline levels.
When running at high speeds and pushing yourself to your limits, removing your hands from the bars to make changes to the incline level can be dangerous.
Multiple default speed and incline buttons are present on the display to make switching between settings quick and easy. The LCD display is bright and easy to read, too.
The display has easy controls that allow you to cycle between speeds, incline levels, programmes and metrics. Feedback displayed on the console can make a big difference in your session and include:
Calories burned
Distance travelled
Speed
Time
Pulse rate
When we're running, we love to listen to some music to help push the session along. The built-in speakers and MP3 connectivity make it easy to listen to your ideal workout playlist.
Dual bottle holders are available, but we think even the most intense runner should only have use for one bottle holder.
If you're doing sprints with a partner and are jumping on the unit for a minute or two burst during a HIIT workout, the dual holders will make more sense for you.
Safety-First Approach
Reebok supports you and your fitness goals.
Users can fold the unit up for convenient storage, and an assisted soft drop mechanism lowers the unit slowly and safely. Simply press your foot on the red mechanism to start the soft drop process.
The safety key, featuring the standard red colour, can clip to your shirt or pants. Once the key is removed from the slot, the auto stop function is initiated.
A built-in cushioning system protects your joints from damage, which grows in importance the older that you are.
Reebok ZR9 Review: Conclusion
Reebok's ZR9 is an exceptional at-home unit that can help you reach your fitness goals with less maintenance and has a robust set of safety features.
Buyers also benefit from a 2-year parts and labour warranty, 10-year warranty on the motor and lifetime warranty on the frame.
The ZR9 is heavy, so it should be kept in place, although it does have transport wheels if you need to move it around. While difficult to move, the unit folds easily and has one of the easiest unfolding options on the market.
Built-in programmes, an easy-to-use LCD display and a variety of incline levels will allow everyone to challenge themselves, from first stepping on the unit for the first time to someone on their 300th session.
Running is a discipline, and Reebok's high-quality design, superior motor and quiet design make indoor running even more enjoyable.
Should you buy the ZR9?
If you're a person committed to fitness and envisions running as a major part of your getting or staying fit, the ZR9 is the model for you.
It's great for those times when running outdoors isn't possible due to rain or cold weather.
Gym members that want to stay disciplined when they don't go to the gym will get the same commercial quality at a residential price.
Even people that are just starting their fitness journey and want equipment that won't break in a year or two will find the ZR9 ticks off all the boxes on quality and functionality that you need for a great, at-home workout.
Related posts:
York Fitness Active 120 Review